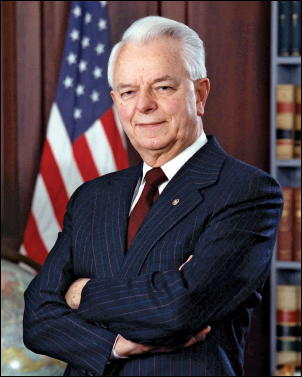 Senator Robert C. Byrd has died.
West Virginia flags are flying half-staff in honor of 92-year-old US Senator Robert C. Byrd, who has served longer than any other person in the US Congress.
Byrd, who has often been blasted as the "King of Pork" by Congressmen who quietly hid behind the door when pork went to their own districts.
Byrd said his most shining moment was opposing the Iraq war, calling it a pre-emptive strike against a sovereign nation based on a series of lies, after America has historically maintained they are opposed to such action.
The Bush administration changed the principled position, making it OK to strike nations if it appears to be in the political and corporate interests of the country.
Most Americans, at least for a while, disagreed with Byrd's position.
While he widely supported coal and oil interests during his career, he issued a recent opinion that called for a more reasonable assessment of the future of coal in West Virginia, a written statement that likely hit the mark, although vigorously attacked by the coal industry.
Byrd's knowledge of Congress, the American government and the US Constitution excelled all Washingtonians.
See SENATOR BYRD DELIVERS SPEECH TO THREE PICKENS GRADUATES - "Small Is Not Only Better, It Is Best"
CAWTHON'S CATHARSIS - Long Live the King (of Pork)!