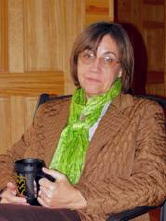 By Alice Hickman
heartpaths@yahoo.com

We are getting into serious summer weather. I am hearing about so many people heading for the beach and it has got me yearning for a few days in the sun and sand. An instant cure from stress and a mind full of cobwebs. Having said this I know beyond a shadow of a doubt that I will be heading east soon to some beach somewhere.

The last few weeks has found me into my usual rituals of trying to do some gardening. I am dragging my feet. Just now trying to decide on a remedy for my own personal clan of deer that love to graze through my yard. The apple trees have attracted them for many years. I guess the young tender bean sprouts are too enticing for them to pass by, so a few seem to be clipped off each night. I talked with a salesman at a farm and garden store about purchasing some of the new deer fence that has become popular. He says it seems to work for a little while, but deer soon become accustomed to it and the intended purpose usually fails. So I decide not to waste my money. Maybe a 6-8 ft. permanent fence is the real answer.

Of course I am back to mulching in hopes to deter most of the weeds. I am not a fan of hoeing all summer. Those bales of hay that I stacked around an old refrigerator holding last years potatoes through the winter are now being recycled in my garden as mulch.

My mini farm has become a challenge for me. Don't know if I want to stay a farmer or not. Maybe this summer will help me decide. My apple trees which are in bad need of a pruning, are hanging heavy this summer. Maybe the apples will be big enough for some applesauce or apple butter this fall. Some small walnut trees that I transplanted are looking better this year. Maybe part of them will actually survive. I find myself loving those breakfast muffins with all those natural ingredients like raisins, applesauce, walnuts, shredded carrots, oats, whole wheat and no sugar.

My world includes pictures of my grandson Levi and his recent Mohawk haircut as well as my granddaughter Courtney and her prom night. You know how it is with grandkids and bragging rights. Bear with me friends.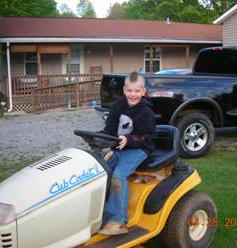 Levi Walker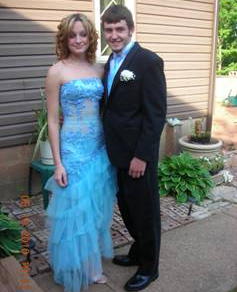 Courtney Conrad & Austin Moore
Weekly routines keep me out and about. With family in SunBridge-Glenville and Minnie Hamilton Long Term Care, I am accustomed to regular visits. Auntie and I usually do weekly trips and errands and this usually finds us at some restaurant in downtown Grantsville or Glenville. We have to fuel up you know!
Recently, we had lunch at the Koffee Kup. I was so pleased that my good friends Jim and Marilyn Barr were lunching also. Jim and I joked about our day out on the town and I assured him that it was a special treat to enjoy slices of carrot cake with cream cheese frosting with a twenty-something year old incredibly handsome man. Always did like to make an older man blush. So glad that Jim had a day and felt well enough to be out. Nothing like home town people.
Wow! I took another little outing on Friday evening to our neighboring town of Glenville. Thinking it had been years since I had been to the Folk Festival, I set out to watch a little square dancing on the street. I got a late start so it was close to dark when I arrived and found parking on the hill at the courthouse. This was fine, but the crowd of people, a few thousand, was unexpected. Guess I have been locked up too long. I meandered around for a short time thinking I would surely see some familiar faces and someone to chat with. The dancing was entertaining and the music on up the street was fine. Everything seemed right on cue except for me. Strangers everywhere. No familiar friendly faces. I made it a short night deciding I was way out of my comfort zone.
Hi-tailing it to my truck I headed for home to watch a movie in the comfort of my recliner. I did pat myself on the back for even mustering up enough courage to go out by myself. So I will just keep practicing knowing that I am getting more comfortable in my own skin each time I try something different.
Speaking of trying new things, the latest adventure I would have to say is the Zumba class. Yep, I did it. Left my treadmill because it had started talking back to me. Bearings going bad I think. I have to admit that I miss that hour with Bob Seger and dancing in my kitchen. I traded him in for high paced salsa type moves and other stuff that stretches my zone, literally. Along with losing a few more pounds and inches and toning up those muscles that I thought I had lost. Talk about a fish out of water. But hey, gotta try stuff to find out if it works for you. I will get back to Seger later.
Well folks, sorry that I talk so much about myself. But these days I am my own company most of the time. This season will pass, but I've decided to just enjoy my days and continue to thank God for all my blessings. Hope you can do the same whereever you are in your life.
Yesterday, I was looking at the sky from my back yard and noticed a group of clouds that seemed to be churning inside itself. Looked like an upside-down volcano. What a beautiful movie it was.
And that is where the heart is!