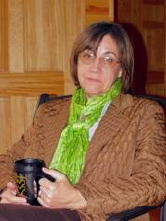 By Alice Hickman
heartpaths@yahoo.com

Life has been in a spin here the past few weeks. From "Mother's Day to Mom's birthday". Whatever the event it seems that my Mom still makes the headlines in my world.

On Mother's Day we brought my mother, Mae Jennings home for a few hours. Just a meal with food usually not prepared in nursing homes. Stuff like home-canned green beans and fried green tomatoes. Her younger sister joined us for the afternoon and plates piled full were soon emptied.

Of course the kids stopped by briefly and the entertainment began. Mom and Auntie love to reminisce about days gone by. Some of our most memorable times are when they start telling funny stories and soon everyone is laughing. This gathering was no exception.

First, Auntie shows off her pictures of our recently celebrated twins in the family. She and Mom discuss "who gets which pictures" and the competition begins.

Mom suddenly focuses her attention on my grandchildren having decided it is her duty to warn them about the wiles of life; such as snuff rubbing! "When I was young, maybe in grade school, I remember Aunt Sarah Ward saying that every woman needs to be a snuff rubber because then she has something to keep her company". It seemed that being a young girl was a good time to begin, so one day walking home from school Mom decided it was her time. She tried her first rub. Got sick! Stopping at a neighbor's she asked for a drink of water, relating what had happened. The lady of the house, Dory Wyers gave her a glass of water and then said, "Good!" "Maybe you'll leave it alone now".

Now we know why some women rub snuff. My grandmother was a snuff rubber and I remember her sitting, rocking, quilting and rubbing. The 'spit can' was always by her chair and we children were warned to stay away and not spill it.

As Mom and Auntie continued their stories, they both got very tickled and Mom doubled up laughing, almost falling off her chair.

"When we were kids, Roy Roberts cut hair at the J & B Drug store. "I gave the boys haircuts at home" she continued. "One time I cut Bernard's hair. It looked like I had put a bowl over his head and cut around it". "Poor Bernard", she added.

Saturday night baths were tradition at the Weaver home with six children sharing bath water prepared in a #2 washtub. Auntie reminded Mom that being the oldest she always got to take the first bath. "How selfish of me", Mom replied.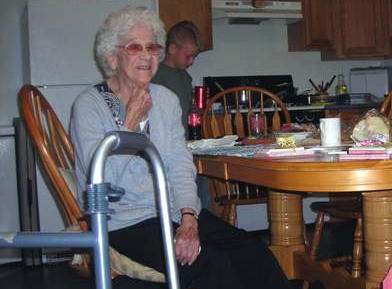 Mae Jennings - Mother's Day 2010
The afternoon continued and soon we were talking about old age. "I sit at the nursing home and notice how people get 'waddles' under their chin as they age". "Mine is crooked on top of everything else", Mom told us as she laughed again while holding up her head for us to see. Lisa added, "I have a waddle but it isn't on my chin".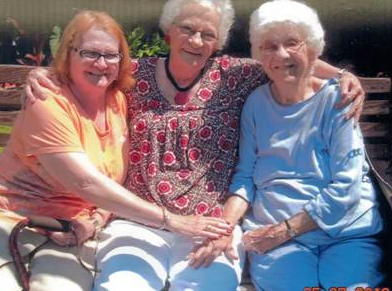 (L to R) Joan Dobbins, Hilda Watson, Mae Jennings
Two of Mom's old school students stopped in at Minnie Hamilton Long Term Care to visit her the day before her birthday. Hilda Johns Watson and Joan Collins Dobbins from the mid-west. They had a lovely visit. Mom receives beautiful cards from Hilda on a regular basis. They have been coming in the mail weekly since last June and brighten her days.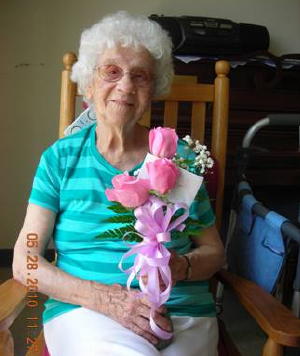 Mae Jennings - May 28, 2010
May 28th was Mom's birthday. She turned 92 years. The people from Nobe Baptist Church went to visit in the afternoon and gave a birthday party with cake, ice cream and the works. This was what Mom had requested for her birthday. Enough cake and ice cream for all the residents. This was very important and she wouldn't eat any cake until everyone else had gotten theirs. She received several gifts. Pink roses, were delivered from her granddaughter Lisa and family.
Happy 92 Years Old Dear Mother. You will always be the star!
Other recent happenings will have to be written in another story. Until then, this is where the heart is.