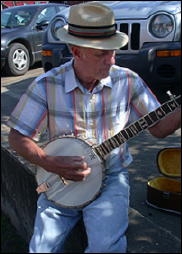 By Mack Samples
www.macksamples.com

Many times when I am scanning the Internet I see articles about the ten best places to live in America. MSNBC has such a feature every now and then. Also, the Progressive Farmer runs an annual feature by the same title. I am not sure what all the criteria is for these rankings. I notice that Seattle, Washington is often among the winners as are some progressive mid-western towns. I don't like to be smug and arrogant about it….but they are all wrong.

The ten best places in America to live are in the rural areas of: Clay, Braxton, Gilmer, Lewis, Upshur, Doddridge, Calhoun, Ritchie, Wirt, and Roane counties. I almost made it twelve and included Pocahontas and Webster counties, but after thinking about the brutal winters they have over in the high country, I decided against it. But for natural beauty, and serene places for summer living, old Pocahontas and Webster are pretty hard to beat.

As I noted earlier, I am not sure about all of the criteria the national media uses to make their choices, but public transportation, walking distances to key points, availability of health spas, and an abundance of cultural events are sometimes mentioned. I am going to be very specific with my criteria about why the central counties of West Virginia are the best places to live.

First there is the issue of safety. West Virginia is usually first, or at least in the top five places for the lack of crime. True, we have our share of domestic violence and several meth cookers. But I still feel relatively safe from crime here in my holler. Most of the violent crimes occur among the drug dealers themselves. On the weather scene, we are also safe from most catastrophic events. While we have our share of floods, we are fairly safe from tornadoes, hurricanes, major earthquakes, and tsunamis. I feel very protected here among the hills.

Second, you can live a very comfortable life in the central counties without being a big success. In some of those "best places to live," people make a quarter-of-a-million dollars a year, but many of them spend their lives in 750 square feet of space in a high rise condo. I am pretty well convinced that those of us who live in 1600-2000 square feet of space, situated on a few acres of ground, lead much more comfortable lives. At least we don't have to ride an elevator to get to our residence.

Third, we enjoy hassle free local travel. Most of us can get in our pickup and go to the grocery store without having to stop at a single traffic light. I don't know about you but I have a strong aversion to driving in heavy traffic, trying to figure out which lane to get in, and sitting for fifteen minutes at an off-ramp while trying to get into a major city. Shoot, you can still get into a drag race on some of the two lanes in the central counties.

Finally, I would combine a few minor items that make life a little more joyful here in central West Virginia. Where else can you dump your table scraps over the hill without having to worry about pollution? You can go back the next day and there won't be a trace of them left, thanks to the raccoons, opossums, and coyotes. Where else can you get your rifle or shotgun down, walk a few yards, and enjoy some of the best hunting in the country? Culture? You can get a good picking session going about anytime you want to around this neck of the woods, and there are all kinds of community centers that offer the opportunity to dance a little if you are a mind to. Here in Clay County I'm only fifty minutes and one stoplight away from Charleston's Clay Center.

I guess I enjoyed living out in the Troy District of Gilmer County more than any other place I have lived, but my Clay County holler is nearly equal. To borrow a phrase from Thomas Gray and his wonderful poem, Elegy in a Country Churchyard, both places are "far from the madding crowd's ignoble strife."