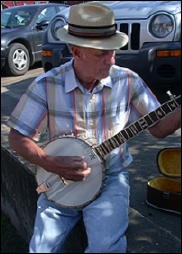 By Mack Samples
www.macksamples.com

I had observed it sitting in a vacant lot for several years. It had obviously stopped providing transportation for anyone. It had a forlorn look about it, the kind of look a person has when they are acutely aware of the fact that no one loves them any more. It was what is known by automobile aficionados as a "survivor." One day I decided to stop and take a closer look. It was 1991 Riviera, Buick's off again on again personal luxury car.

The tires were dry-rotted, the chrome showed some signs of corrosion, the windshield had a slight crack in it, there was a badly bent piece of molding on the back quarter-panel, the headliner was in shreds, the leather seats were worn to a frazzle and it was in desperate need of a paint job. Yet the body was in tact and looked rock solid. As I walked around it a few times, I came to the conclusion that several hundred American dollars might make it a thing of beauty once again. I spoke with the owner.

I was informed that the Buick had a good engine and was drivable when parked a couple of years back. He said he had considered "parting it out" on E-Bay but just hadn't gotten around to it. He further noted that it had failed inspection because it needed a new transaxle on the right front. I asked if it was for sale. After a long stare, he said it was. I asked if he thought I could drive it home. "It runs fine, he said, "but the brakes are really bad. It's hard to stop." We negotiated a price and it was mine. I nursed it out of Charleston, being very careful to give myself lots of wiggle room so I could stop without a collision. Once I got on I-79, it drove like a dream.

When I pulled into my driveway the power steering line ruptured and the fluid spewed all over the place. I replaced the line and it was drivable. There was a new transaxle lying in the backseat so it had to be installed along with some new brake liners. The brake liner job expanded to new calibers and hoses. The transaxle job included new ball joints. Once those jobs were completed, the oil pan began leaking. That required a new gasket for the oil pan cover. During the next test drive, the power steering pump ruptured.

After I replaced that, I needed a new water pump. "That thing is going to end up on blocks in the front yard," my skeptical wife said.

Yet, it still drove like a dream. During my next outing to Clay, I parked it on Main Street and it failed to start. It had to be towed to Cunningham Motors in Ivydale. I thought it was probably the fuel pump or filter, but it turned out to be a fuel cell sensor. Since that time it has been very road worthy.

I found some nice leather seats in a 1986 Cadillac Eldorado in a salvage yard that fit perfectly. A new headliner has been installed by a professional. It now has a fresh coat of paint and has, alas, become my pride and joy. When I look at it sitting in my driveway, I think of the words of the old British poet, John Keats, who wrote, "a thing of beauty is a joy forever."

When I'm driving it, I think of the 1950's when Harvey Earl designed all of those beautiful Buicks. It was during the 50's when Charlie Wilson, then President of General Motors (that was before all of this CEO nonsense) made his famous statement: "What's good for General Motors is good for America." The news media still complains about that line.

But most of all I think of that 1950's slogan that trumped all the other slogans during that golden era. "Wouldn't you really rather drive a Buick?"