RACES, HITCHES AND SQUABBLES

By Bob Weaver OPINION AND COMMENT

Perhaps the biggest news about Calhoun politics 2010 is the general lack of interest in the Primary Election, although the four-way race for County Clerk has drawn some interest.

While there are some assaults on the character of candidates, it is noteworthy that the county candidate list is a group of rather stalwart citizens, excluding any claim about myself, since I'm a candidate too.

Maybe we should remember the words of a longtime Clay County politician - the late "Wide Glide" Sirk, who told everyone he met at the beginning of the election cycle - "Until the election is over, don't believe a dam thing I say."

"Wide Glide," who long-supported a Clay politician who was generally crooked, was asked why he supported such a fellow. He replied, "He's a dumb-ass, but he's our dumb-ass."

So far, this election cycle, there hasn't been any outstanding guffaws like last election cycle, the most notable being the removal of Assessor Jason Nettles nameplate from his office desk by Jim Morris, who then placed it on the back of a commode, flushing it.

During the impressive display, office workers said Morris mumbled something to the effect of "that's where Nettles belongs."

Morris-Stemple, the last of the county's political factions, is still running candidates, even though they've had little success these past 12 years.

Jim's father, Carl Morris, as we have previously written, was an consummate politician, and knew how to play the game.

This election has certainly been a year for highway signs.

A former Grantsville police officer and sheriff's candidate who works in law enforcement in another county, filed a complaint with the County Clerk and Sheriff about a road sign I placed along the highway some distance from his house, claiming it was off the state right-of-way on his property.

After driving back and dutifully removing the sign, it was likely a couple inches off the right-of-way. It's pretty hard to stand up for the clutter of signs anyway, albeit necessary to the political campaign.

The police officer did add to his complaint that I had insulted his wife by giving her a "hand gesture."

Yes, you know the one.

To the best of my recollection, I have not given "the gesture" to anyone since my long-gone drinking days over 30 years ago, or the days of my youth.

The sign battle has gotten sorta funny with Grantsville's well-known Todd Smith attaching signs to his vehicle that say "Weaver-Not For The People," while driving around the county.

Smith's campaigning was short-lived, since he is back in jail.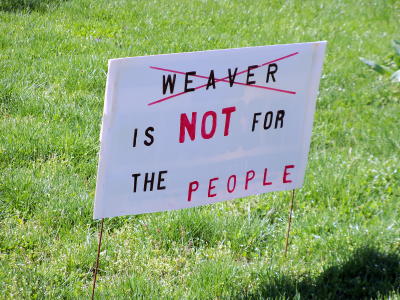 Smith apparently picked up on the First Amendment idea from signs erected by former Grantsville police chief, former deputy sheriff and former Sheriff's candidate, Charles McCroskey.
McCroskey dutifully placed the anti-Weaver signs on family property in south Grantsville, likely disturbed about a job for which he was slated was not approved by the Calhoun commission because of budget issues.
So, that's not much excitement, although I've had some problems with a broken car mirror and flat tires.
Other than fighting the never-ending battle of signs being torn down or run over, it's been a pretty good campaign season.
Continuing my long-time passion of driving around the county and talking with people is the best part.
Those signs, I will take them all down, and I'm sure the other candidates will dutifully do likewise.