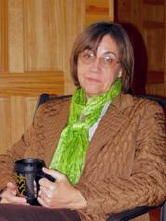 By Alice Hickman
heartpaths@yahoo.com

"Mom, what would you like to do for your birthday this year" asked Lisa a few days ago.

"Well, I would like to go on the famous Creston Poker run" I replied, "since it falls on my birthday once again.

So the plan began. My sis-in-law Darlene wanted to join me, so Jason and Lisa put the plan together to transport us and our 4-wheelers to the event on Saturday the 17th.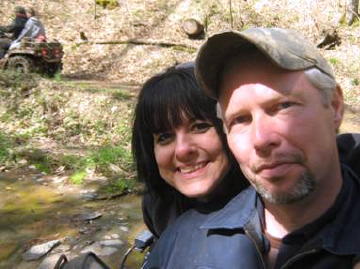 Lisa and Jason Walker
The others are old pros at riding 4-wheelers. I was the new kid on the block. I had always been a passenger before, but not the driver.
We registered and made a purchase of a "Poker Run" birthday keepsake T-shirt. Then we set out on our ride meandering through, over and around the back roads, hills, hollers, trails, creek beds and high ridges of western Calhoun as well as some neighboring counties.
A few years ago I had participated in this same event. That time riding behind my husband along with his brother and wife. That year it was my birthday. That year I remember violets or "Johnny-jump-ups" blooming in the meadows. That year I lost my cap and sis-in-law Mary scooped it up, speeding up along side to return it to me. That year we returned to home base and enjoyed hot food provided by the good people of Creston community. Cornbread and beans as I recall. It was a good day.
This year was a repeat for me but with different people. Once again violets were blooming and this year Darlene helped me retrieve my lost cap. This year I was captain of the ship and the waters were rough, so to speak. This year we enjoyed good food again pleasantly served by the ladies of Creston. Once again, it was a good day.
Being the rookie I was placed in between the others so they could protect me since I obviously might be a danger to myself. Everything went well. As faster riders came up behind, we tried to be courteous and pull over to let them go around.
Jason took the lead and never failed to alert me about loose gravels as he slid around the turns. This was necessary you know! Otherwise I might not know to take it easy.
The first two stops for drawing cards went well. At least for Darlene it did. She drew Aces both times. The first attendant said it must be because she was a blond and therefore favored. After the second Ace, Lisa and I decided we should probably become blonds also.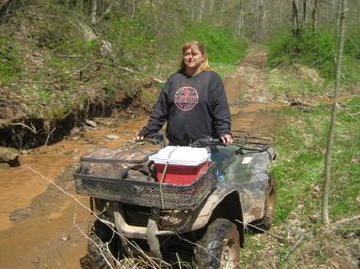 Darlene Harris
Over rocks we went as the downward slope became more elevated and rough. Lisa was having panic attacks as she watched me follow along where they had just ventured and cautiously descended.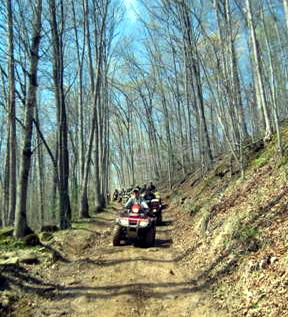 I (Alice) leading the pack on one of the nicer hills
Then came the water crossings and the mud holes. As the day grew long I had managed to stay fairly clean and dry. Then came the deep, gray muddy hole that graduated me out of my training pants (boots in this case).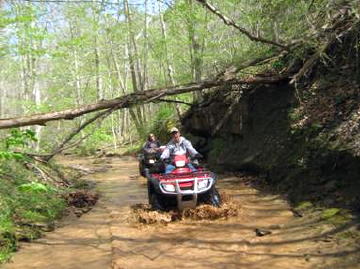 Me (Alice) and Darlene
Well, it was a long but very good ride. We got our money's worth of beautiful backwoods, farmlands, country churches and landscapes that words fail to describe.
I am no longer the rookie. However, the next run I will be better prepared. No caps. Waterproof boots will be required if the weather is cold and some other items such as my own phone and thermos of hot coffee. This will make me more adequately pampered.
At the end of the journey our tails were dragging. The two older ladies were not sure if they would be able to get out of bed on Sunday morning. A nice hot bubble bath restored my joints. On Sunday morning we were both in our church pew feeling very proud of ourselves.
So another mini-adventure behind me. Life is as good as one makes it. Darlene and I agree that we intend to shoot for the stars. Maybe we can land on a planet or two. Especially the planet called "Happy" or the one called "Good Times".
And that is where the heart is.