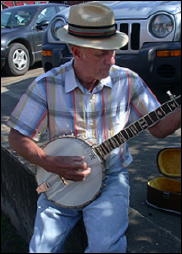 By Mack Samples
www.macksamples.com

I heard it said once that West Virginians did not know they were poor until John and Bobby Kennedy told them they were when they came to campaign during the summer and fall of 1960.

I was in far away Sasebo, Japan during that historic campaign year, but I read about it in the military newspaper, The Stars and Stripes. As one who grew up in rural West Virginia, I noticed that the news media concentrated on all of the unfavorable things they could find in the state and tended to ignore those who lived a happy life here in the hills.

In all fairness, however, Theodore White did have one very favorable paragraph about us in his book, The Making of the President 1960.

In 1961, I got out of the Navy and entered Glenville State College. When I took my first sociology class I was shocked to learn that the family that I was a part of growing up was actually lower class.

The pointy-headed intellectuals who constructed the sociology text books had America divided into six classes.

These classes were categorized as: Upper-Upper, Lower-Upper, Upper-Middle, Lower-Middle, Upper-Lower, and Lower-Lower. I well recall the class members looking at one another with wry smiles as we discussed our station in life.

None of us ever thought of ourselves as lower class. Yet there it was, as Lum and Abner used to say, right there in black and ink. I guess the Kennedy boys used that same sociology book at Harvard!

I thought back on my elementary school days. There were about fifty of us who attended the little rural school. With the exception of possibly four or five students, we were all well fed, well clothed, and came to school with scrubbed faces. None of us ever thought of ourselves as lower class.

When I got a little older, during my teenage years, I spent a lot of time roaming around the hills of the region of the state where I lived.

I was inside of a lot of houses during my wanderings. There were all kinds of houses tucked away in the hollers and hilltops back off the main highway.

Just about every one of the homes that I visited had a well maintained exterior and was scrupulously clean on the inside. During the summer months most of them had beautiful vegetable gardens.

Many of them had a nice pasture field with a milk cow and a work horse serenely grazing on the hillside. I was often invited in for a piece of cake, or better yet, a slice of apple pie made from those priceless Early Transparent apples. THESE WERE THE PEOPLE THAT THE SOCIOLOGIST CLASSIFIED AS UPPER LOWER CLASS.

Our professor assured us that those categories of people were classified strictly on the basis of their monthly or annual income. No allowances were made for the fact that many of the "low income" lived in houses and farms that had no mortgages.

They made no allowances for the fact that some of these folks, who had been classified Upper-Lower Class, were able to spend their low income on other things because they raised most of what they ate.

Finally, the sociologist failed to realize that some of these folks did not have to spend money on mechanics, plumbers, carpenters, electricians, and other types of repair people because they did it for themselves.

None of this is meant to convey the fact that there is no poverty in West Virginia.

I can show you plenty of it.

The argument here is that many folks with a modest income enjoy a pretty good quality of life in our state and should not be classified as Low Class.

In fact, those classified as Upper-Upper class might take a few lessons in life from them.