By Dianne Weaver, Challenge WV

NATION'S REPORT SAYS WV STUDENTS LOW IN READING

West Virginia students fared poorly on a national reading exam in 2009 on what has been called, the nation's report card.

The National Assessment of Educational Progress, says 22 percent of public school eighth-graders achieved "proficient" or "advanced" scores in 2009, compared to 23 percent in 2007.

The report is considered the best gauge of public schools' student performance in core subjects.

The National Center for Education Statistics said West Virginia's eighth graders scored lower than the national average.

Reading scores stayed about the same from 2007 to 2009, but West Virginia's eighth graders still score worse than students in 41 other states.

Liza Cordeiro, a spokeswoman for the state Department of Education, said, "We believe that we have flat-lined across the board when it does come to our students in eighth grade."

Corderio adds that the DOE has initiated new programs to try to increase students' scores.

"We're working hard, our teachers are working hard, our students are working hard. And we hope that we will start seeing those increases across the board, not only in reading, but also mathematics."

The report card shows that in West Virginia, female eighth graders tend to score higher than their male counterparts.

Students eligible for free and reduced school lunches scored on average 18 points lower than students not eligible for the programs.

CONSOLIDATION HEATING UP IN NORTHERN WV

School consolidation is heating up in two northern WV counties, as student enrollment drops.

Brooke County and Wetzel County officials currently are considering consolidation options for several of their local schools.

The consolidation proposals are part of their Comprehensive Educational Facilities Plan, a 10-year plan that each county develops to get school districts to look at how to best make use of their resources.

Wetzel County officials are wanting to close Paden City High School, a move they say will save money. The school would be consolidated with Magnolia High School in New Martinsville.

See Award Winning School Facing Closure

Major school closures and consolidations are being planned for Brooke County.

The consolidation plan in Brooke County calls for an $80 million investment.

The comprehensive plan has discussed combining the district's seven primary schools into two and the two middle schools into one.

If the plan moves forward, two new primary schools would be built, one in the northern half of the county and one in the southern half.

A new middle school would be constructed near Brooke High School.

In addition to state funding, Brooke county taxpayers would be asked to pass a $30 million bond levy to pay for the consolidation.

Officials said there is a projected $536,000 drop in revenue for the school district, attributed largely to a decline in property tax revenue.

Brooke County Superintendent, Mary Kay DeGarmo, said consolidating would allow the district to expand and enhance course offerings and employ more state-of-the art technology.

Follansbee Mayor Tony Paesano said, "Bigger does not always mean better. I don't know what they can do in a consolidated school that they can't do in the existing school."

"I don't believe in tearing things down, just because it's old," he said.

Paesano said the school board should look for ways to improve technology in the existing buildings and work on developing "the best educational system that money can buy."

SUN GOES DOWN ON MCDOWELL CONSOLIDATION BATTLE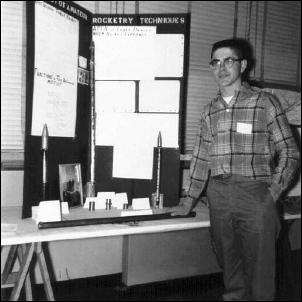 Homer Hickam in 1960, Big Creek's rocket boy, wrote
the book that resulted in the movie "October Sky"
The sun is setting on the storied history of two McDowell County schools after a 10-year consolidation battle.
The last day that students will step into Big Creek High School and Iaeger High School will be June 8.
Big Creek High School was author and engineer Homer Hickam's school, made famous by the McDowell rocket boys in a novel and film "October Sky."
It was a true story about students in a small coal camp school rising to the top.
Hickam, who frequently returns to his roots, will likely spend some time saying goodbye to his old school.
Both schools will be closed and consolidated with the new River View High School.
Construction is continuing on the new multi-million dollar high school along a 17-acre site near Bradshaw.
Big Creek High School, which first opened its doors in 1931, will remain standing, and is expected at some point to be returned to the community.
Iaeger High School will be demolished to make way for a new Iaeger Elementary School, also a part of the flood-proofing agreement between the school system and the U.S. Army Corps of Engineers.
McDowell County, by the end of June, will have only two high schools, with an emotional time for residents in the War and Iaeger communities.
A considerable number of students are facing bus rides of more than one and one-half hours each way.