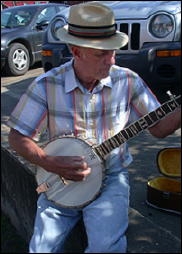 By Mack Samples
www.macksamples.com


Writers from West Virginia and the greater Appalachian region have always had difficulty getting published by the big-time New York publishing houses. Jesse Stuart, the very successful Kentucky writer, became very frustrated with them, felt like he was being discriminated against, and called the New York publishing houses "The New York City Jewish Literary Society." But I think the truth is publishing houses are always reluctant to take a chance on publishing any unknown name, be they Jew or Gentile. There have, of course, been notable exceptions.

Twin brothers from Webster County cracked the New York publishers back during the 1930's when times were hard and getting published must have been extremely difficult. Although they are now mostly forgotten, Hubert and Hobert Skidmore published several successful novels via the New York publishing houses and became well known throughout America.

Hubert's first novel, I will Lift Up Mine Eyes, published in 1936, won the highly coveted Hopwood Award which carried a $1500 prize. He also garnered critical acclaim.

Sinclair Lewis himself was on the panel that selected Mr. Skidmore for the award. In 1936, $1500 was a nice piece of change. His next two novels, River Rising and Hill Doctor both got reviewed in the New York Times.

His most important novel entitled Hawks Nest, published by Doubleday in 1941, got excellent reviews in national magazines and was a good seller. While it was a novel, it was really a social commentary on the building of the tunnel through the base of Gauley Mountain that claimed the lives of 476 workers during its construction. The workers, most of them desperate for a job, succumbed to silicosis as a result of getting their lungs full of dust as they bored through the solid rock. Hawk's Nest gave Hubert a secure place in the publishing world.

World War II came along when Hubert was at the peak of his writing career. He joined the Army and became a commissioned officer in the European Theater of the war. He came home after the war and was tragically burned to death in a house fire. Some said that he had a bad habit of smoking in bed.

Success came a little later for Hubert's twin brother, Hobert. He did enjoy limited success during the 1930's writing plays and short stories, several of which got published in the Saturday Evening Post. But it was 1944 before he enjoyed success with a novel. Hobert had also joined the service in the early stages of World War II and became a sergeant in the Army Air Corps. It was during his service in the combat zone of the South Pacific that he was inspired to write Valley of the Sky, the story of a bomber crew that flew combat missions. It was published by Houghton and Hobert was on his way. The novel got a great review from then famous writer John Dos Passos. He said in his review that "it was the first book I've read about (America's) part in the war that gave me the feeling of being written from the inside." Hobert followed with More Lives Than One which also found success in the publishing world.

But the intriguing part for me is that these two boys, who actually completed high school in Harrison County, came from humble beginnings in Webster Springs. Yet they managed to go out and crack the big time. They not only got published by the major publishing houses but they also got rave reviews in many national publications. The Skidmore twins are convincing evidence that it can be done. Although their books are now out of print, they can still be found in many libraries.

I am indebted to Dr. David Gillespie, former librarian at Glenville State and current Chief Librarian at Frostburg State in Maryland, for much of the factual information in this article. David, also a native of Webster Springs, has accumulated an extensive file on the Skidmore boys.