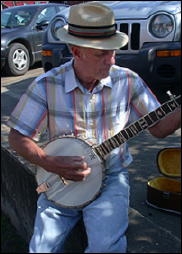 By Mack Samples
www.macksamples.com

As a person who has traveled the traditional music festival circuit for forty some odd years, I have witnessed the use of many forms of mind altering drugs in late night picking sessions. I guess one of the global characteristics of musicians, regardless of the type of music they play, is the belief that booze or drugs makes them play better.

Back in the 1960's and early 70's marijuana was the popular drug of choice. There was also a multitude of pills, the contents of which remains a mystery to me. I saw many a joint being passed in parking lot picking sessions as the late hours of the evening gradually turned into the early hours of the morning. But back during those days I don't think I ever saw any moonshine being passed about.

I first noticed it at the huge Galax, Virginia Old Fiddler's Convention back in the late 1980's. I observed quart jars of the crystal clear stuff floating around in several hot picking sessions. It was not the hippies, or those that the native Appalachian musicians refer to as "Yankees," who were passing the shine around. It was the good old boys who had been playing the music for a couple of centuries before the Yankees discovered it.

I especially remember a group consisting of four guys and a girl from Louisiana who were playing "Cajun" music. They put a way a quart in very short order as they cranked out the "Fi Do Do." I don't know if was the shine or raw talent, but they certainly put out some fine music. I stood mesmerized for over an hour as I watched and listened to their music. But I digress.

During the 1990's, here in West Virginia, moonshine made a big comeback. It was everywhere. Just about every late night session that I was in, no matter which festival, the quart jars came out. And now as we move well into the 21st Century, moonshine is still widespread. I am certain that our Scotch-Irish ancestors would be proud. After all, they are the ones who taught us to make it.

I'm not sure why, but I have noticed that it does not take much shine to do most musicians. It is usually consumed in moderation. There are, of course, exceptions. I would not want to name any names, but I know of some older musicians who can put the stuff down all evening long. So far, they have all been alive the next morning.

If I ever run for political office, I will never have to worry about the questions that were asked of Bill Clinton, Newt Gingrich, or Barrack Obama about using marijuana during their youth. They've all confessed to using the stuff although Bill Clinton said he did not inhale. I will be able to stand before the national press corps and say in all honesty that I never smoked a joint or took any mind altering pills. On the other hand, if they would ask me if I ever took a drink of shine, I might be in trouble.