Article and photos by Rick Brewer

Once again I am proud to report on what an exceptional job our boys did at the West Virginia State Wrestling Tournament last Thursday, Friday and Saturday. Our boys were determined to place and bring home titles this year and that's exactly what they did. Red Devil Wrestlers stepped on the mat giving their opponents the undeniable impression that they were there to win and nothing short of a win was acceptable. These boys fought like warriors holding nothing back, pouring their hearts and souls into every match. Each wrestler can be commended for the superb effort they put forth in representing this county

I often sit mat side during the wrestling match. Sitting mat side will give you a new appreciation for the sport of wrestling. I have witnessed our boys take blows to the nose, mouth and eyes, spilling their blood on the mat and on their opponent. I have watched as their opponents wrench away at their neck and arms applying painful pressure to those areas. I have as many others watched as our boys lay on the mat in pain as a result of a pulled back or leg muscle but never have I witnessed our boys cower under and quit on the mat.

Wrestling is a tough sport and if you were present at this weeks State Tournament you would have to agree that Calhoun has some of the toughest wrestlers in the state. Our boys wrestled to win, to win for themselves, their families and our county. We rejoiced together as a wrestling family when our boys win and we feel and share the disappointment as a family when our boys lose.

Our younger less experienced wrestlers may have been short on skill but none of them were short on heart. Bryan Gungle and a few others are perfect examples of that. All of our wrestlers did not win titles but all our wrestlers are champions. I am told Calhoun wrestlers must be quality athletes with champion traits if they are to survive coach Stumps practices. Wrestling practice is a place where the men are separated from the boys. A place where our wrestlers learn and appreciate the value of discipline, hard work, sweat and tears. If you refuse to quit and stay the course eventually you will reap the rewards of your efforts as clearly demonstrated this past week at States. A lesson our boys can apply to life.

I applaud our wrestlers for consistently demonstrating sportsman like conduct with both opponents and officials. I applaud our team captains for encouraging and supporting the newer and less experienced wrestlers both in victory and defeat. I have been following Calhoun wrestling since 1994 and can honestly say this year's team has been one of the most exciting yet. They have been both entertaining and enjoyable. We will miss our seniors next year but look forward to our younger wrestlers stepping up and picking up where our seniors left off.

I believe I speak for both wrestling parents and wrestlers when I say thank you coach Stump and Coach Stewart for your devotion to both the sport and our boys. We are privileged to have such fine coach's.

I want to say thank you to Jill Metz for the use of her camera. Without it I would never have been able to take photos at the State Tournament. I also want to say a special thank you to Coach Stewart for his assistance Saturday. I believe we will see possibly three State Champions again next year. Calhoun has many promising wrestlers. I am looking forward to the new season already.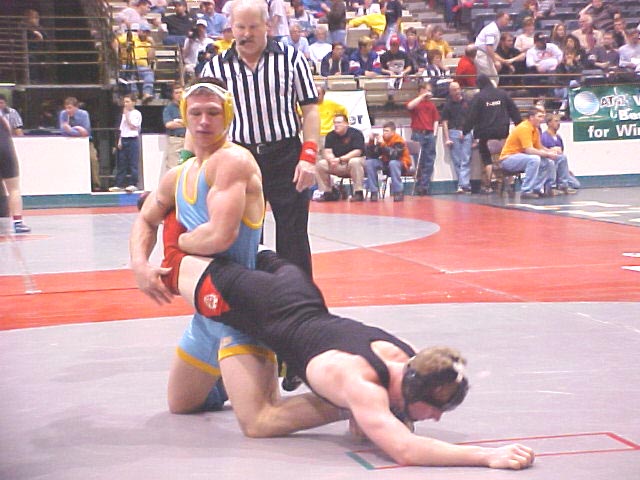 Ray Burge stops his opponet with leg sissors around his opponets body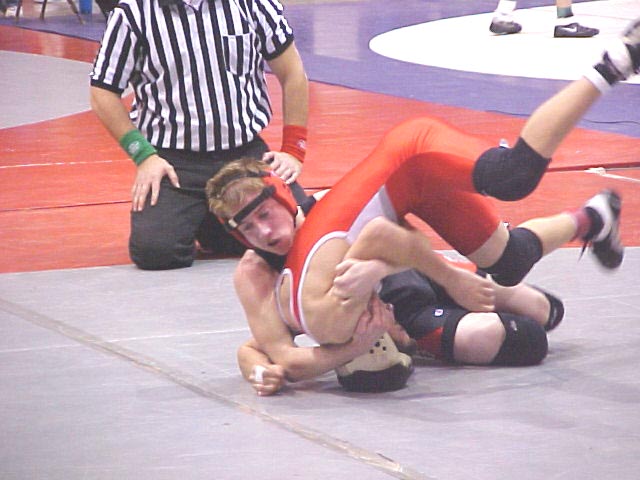 Bryan Gungle working for the pin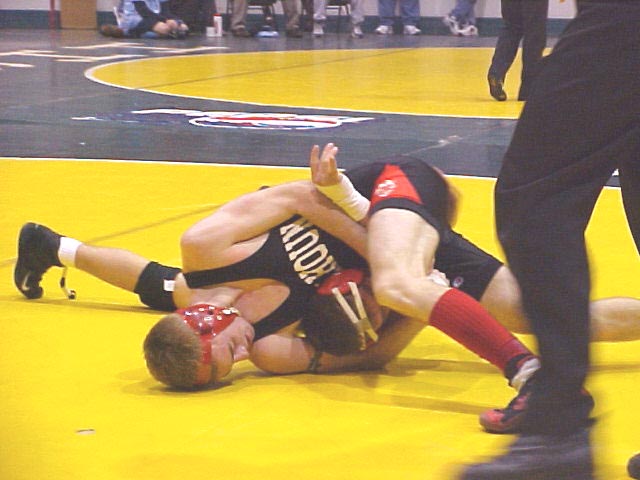 Jared Brewer working for the pin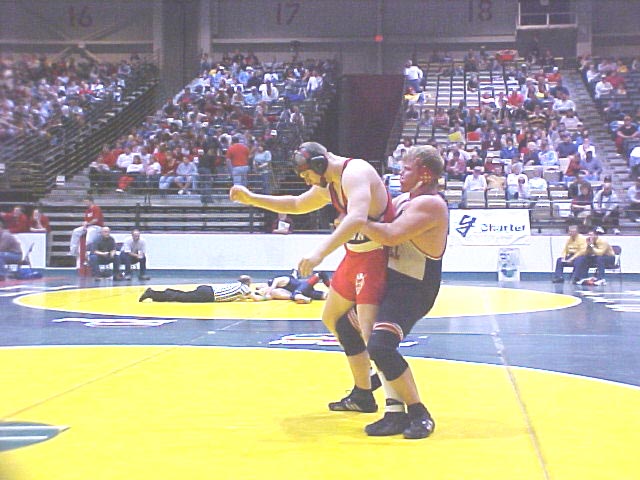 Charlie Gibson showing signs exhaustion during heavy weight match
Joey Moore executes spladel on his opponent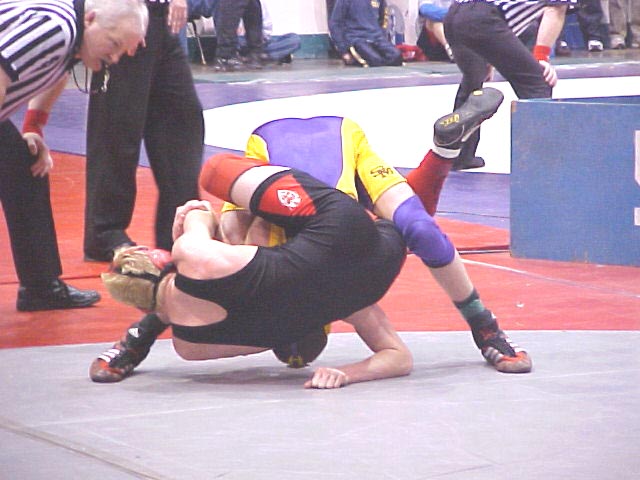 Gary Wager Spladels opponet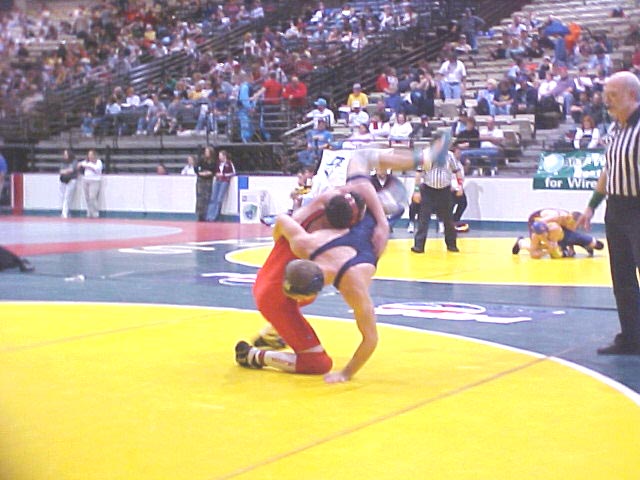 Eric Metz throws his opponet to the mat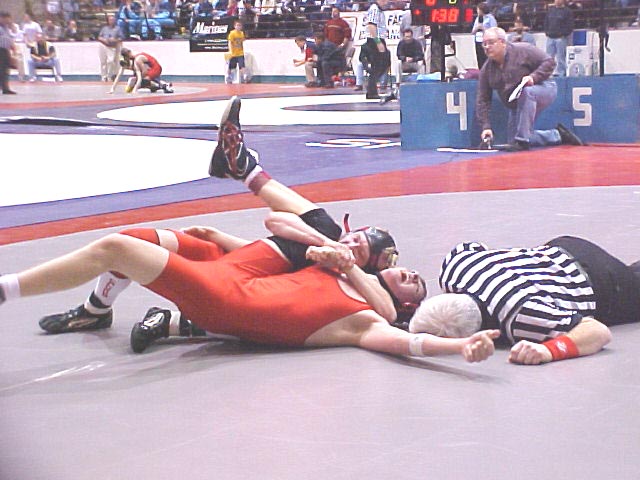 Gary Wager pins opponet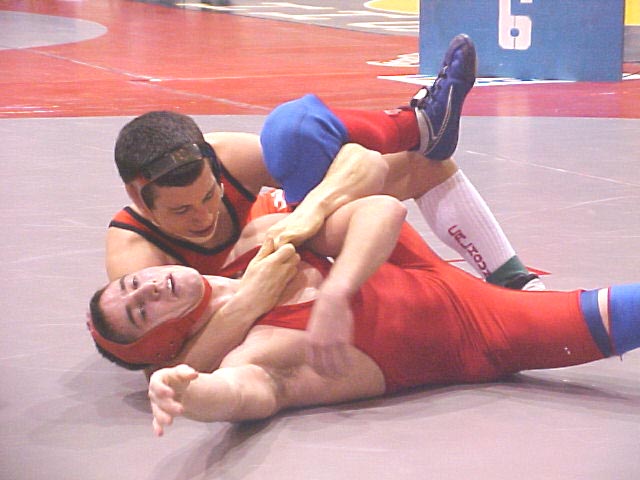 Jeff Morris pins opponet