Clay County dancer: Keeping a tradition of dance alive despite controversy
By Katie Griffith
and Paige Lavender
dailymail.com
CLAY, W.Va. - Stomping the ground with a hoot and a holler, Mack Samples dances with a rhythm and beat entirely his own.
The 2003 Vandalia Award winner, a singer, dancer and musician - was born into a family of musicians in Clay, W.Va. At the time, it was fine for music to be in your blood, just as long as it wasn't in your feet.
Samples first began dancing in high school at the suggestion of a math teacher who approached him with an invitation to "Tea Club." According to Samples, Tea Clubs were common places kids could go to learn ballroom dance during school, at a time when people still "couple danced."
"I don't say this to be smug or anything, but everybody told me almost from the start I was a good dancer," Samples said. "I guess it was just there; it wasn't anything I had to practice very much, it just came. 'Cause I got rhythm."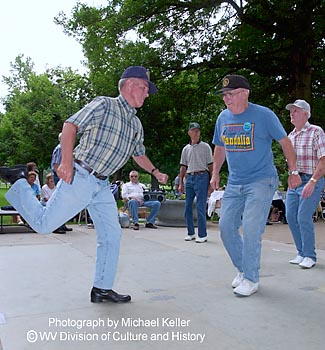 The rhythm that Samples says comes so naturally to him has enabled him to continue his family's history of musicality. Samples can play the fiddle, guitar and banjo. He is the lead singer in his band and, of course, never misses a chance to kick up his feet.
While Samples learned more formal dances at Tea Club, square dance, flat-foot dance and the other more traditional Appalachian dances are something that came much more organically.
"I just kind of grew up in it and I didn't have to learn it," Samples said. "It kind of just came natural to me. I've never been to a workshop in my life, for any instrument or anything. I just learned it in the tradition."
Samples was exposed to square dance with his brothers in the West Virginia beer halls of the 1950s that ran along the side of the main highways such as Route 4 out in the country. Each weekend the halls, or beer joints, as they were sometimes called, would host square dances with live bands.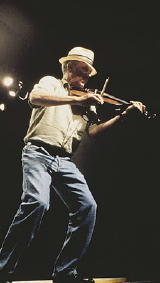 "When I was 16, I was privileged to play in one of those bands in one of those beer halls," Samples said. "I played guitar in a square dance band and stood on that band stand and watched people dance. That's where it came to me."
While Samples was up on his bandstand watching the dancers twirl by, others took a stand preaching the evils of dance.
"Grandmother often said that there was nothing wrong with dancing, it's what the dancing led to that caused the problems," Samples said.
With square dance, everyone is dancing with everyone else on the floor, not just one partner Samples explained. At the time, there was a feeling that if people danced with other spouses it could lead to "other things," such as adultery.
"When I grew up, I went to a rural country church, a Methodist church, and time after time, I heard preachers say in their sermons it was a sin to dance," Samples said. "And I grew up facing that all the time.
"But it never bothered me a bit to sin."
Even now, an anti-dance sentiment is still ingrained in the traditional religion of the area.
In 1995, Samples was invited to teach square dance to a class of second graders in Clay. At the time, Samples was a West Virginia University extension worker for Clay County and taught students around the state as part of his job.
"A few days went by, and I got this visit from the assistant principal at that school and he said, 'What do you think you're doing up here, teaching these kids to dance?'"
Samples said he was shocked, having not considered dancing an issue for some time.
"And I realized, it's still around. In my mind, what in the world could be more harmless than teaching kids to square dance?" he said.
Despite this incident, the rhythm is ingrained in Mack Sample's life. After more than 50 years of dancing, Samples continues to share his talent for those around the state, though he says these traditional dances may be a dying art.
"A strange thing has happened: Nobody dances in Clay anymore," Samples said. "It's just not there like it used to be."
As Clay County extension worker, Samples worked heavily with 4H and continues to work with the organization by teaching his art to students at the camps. Jeff Orndorff, a 4-H Youth Development specialist with the WVU Extension Service, said Samples has been working with them for around 30 years.
According to Orndorff, attention to dance was recently beginning to wane, but in the past four or five years there has been a resurgence in interest.
"He gives the enthusiasm that he has for dance to all the students he's involved with," Orndorff said. "If there's a dance, he can do it."
Even at age 70, Samples says he doesn't feel a lick of stiff joints or the signs of aging.
"I honestly don't feel any different than I did when I was 30," he said. "One of these days I'm going to crash, but so far I haven't."
This is part of the reason why Samples was chosen for the 2003 Vandalia Award. The award committee wanted someone still active and performing, and Sample's name had come up in the past, according to John Lilly of the West Virginia Division of Culture and History and member of the Vandalia Award committee.
"He's kind of a Renaissance man," Lilly said of Samples. "He just loves what he does. He's able to articulate it and present it to the general public, not just the folk dance crowd."
Music and dance have never been far from Samples throughout his life, and he claims it will never leave him.
"As long as I can walk, I'll do it," Samples said.