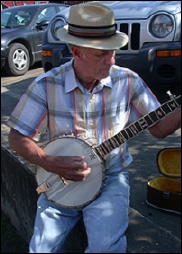 By Mack Samples
www.macksamples.com

This is the time of year when those of us who live out in the rural counties of West Virginia begin to clean up our equipment and put it away for the winter. As I looked around my garage and tool sheds this morning, it occurred to me that my intelligence may be lacking. I saw one tractor with a brush hog, one riding lawn mower, one push lawn mower, two high dollar weed eaters, two tillers, and two chain saws. I wondered how many thousands of dollars I have tied up in equipment, most of which provides no money in return. Just about all of it serves only to keep my place looking good.

As I drive around the central part of our beautiful state I have noticed that I am not alone. I see all kinds of people keeping two or three acres mowed and trimmed. During the height of the summer I see beautiful vegetable gardens safely enclosed within eight foot deer fences. I see hay meadows not only harvested but neatly trimmed around the edges. All of the road banks and fence rows are cut down to the quick with weed eaters. It is pretty obvious that rural West Virginians take great pride in their places. Needless to say, it takes a lot of money to keep a country place looking good. Not only is the equipment expensive, but it is also quite costly to keep that equipment going with gasoline, diesel fuel, oil, and two cycle mix.

But back to my original thought. I wondered, is it really smart to spend all of that time and money just keeping my place presentable? Wouldn't it be smarter to take those dollars and invest them in something that would supplement my income? Or, perhaps I would have been happier if I had spent that money on some luxury items. I wondered if all of those folks who live north of the Mason-Dixon and West of the Ohio River behave in such an irrational manner. I thought perhaps that's why more of those folks who live out in the great unwashed have more money than West Virginians. Is it possible that our misguided values are the reason most of us never accumulate any wealth?

And then I came to my senses and became a West Virginian again. What good is wealth anyway? Why does anyone need a ten million dollar home, two yachts and a Lamborghini? Why does anyone need to spend $30,000 for a season box seat at an NFL stadium? Or in the words of David Cameron, the Tory leader and likely next British Prime Minister, "What has the insatiable consumption and materialism of the past decade gotten us? Has it made us happier and more fulfilled?"

I think the truly intelligent people are like me. They would rather sit on their porch on cool summer mornings with a good cup of coffee, look out over their place, and ask themselves, "Boy do I have a beautiful place to live or what?"