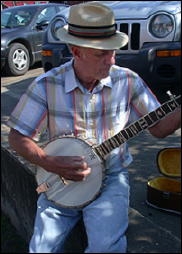 By Mack Samples
www.macksamples.com

As I leafed through the advertising section of the Wall Street Journal last week, I noticed a full page ad several days running. I don't know for sure, but I suspect that a full page ad in the Journal would cost you at least a hundred grand, possibly more. It featured a picture of several high rise buildings with the following quote at the bottom of the page:

"BUCKHEAD, one of Atlanta's oldest and most prestigious neighborhoods, is ready and waiting for you. Some of the world's most exclusive stores, hotels and businesses already call BUCKHEAD home and now, with historically affordable properties, you too can enjoy the benefits of living, working and playing in Buckhead."

The ad also mentioned that what they call condominiums were immediately available. There were no costs listed, but I am sure that the smallest condo would cost you at least a quarter-of-a-million dollars. I know of units in some of West Virginia's prestigious neighborhoods that will cost you that much. For the life of me, I cannot understand what would motivate anyone to pay that kind of a price for what in my younger days was called a "starter apartment." Modern spin doctors can put whatever kind of a name they want to on such units, but in my mind, one bedroom, one bath, a kitchen, and a small living area shoe-horned into about 800 square feet is an apartment.

My next question is what in the name of common sense motivates people to want to live stacked on top of one another in a high rise building? Is it because they want to be near "exclusive stores and businesses?" Then I ask myself why I would want to live near an exclusive store when I can drive across the river at Duck and find anything I want at Nottingham's Store? James Nottingham has groceries, nails, plumbing supplies, work boots, ammunition, screws, bolts, gasoline and diesel. What else does a person need?

Perhaps people are drawn to such places because of the human ego's need for recognition. I guess they must get some kind of a kick out of standing around at a cocktail party with their little finger sticking straight out from their wine glass and telling everyone. "I live at Buckhead."

The next thing that came into my mind was, where are the hard times I read about in the front section of the Journal. Article after article told about people losing their fortunes. Some of them even said they had to stop eating out except possibly one evening a week. Another person said he had to move into a smaller house that had only three bedrooms and two baths because his salary had dropped to below a hundred thousand a year. Now those are tough times.

One of my conclusions was that there must still be a lot of people in America making a bunch of money, or ads such as the one offering luxurious living at the Buckhead would not exist. My other conclusion was that people who spend a fortune to live jammed up on top of one another in eight hundred square feet of living space are not nearly as bright as they think they are.