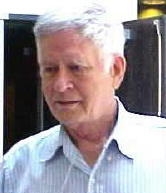 By Jack Cawthon
BBQRun@Verizon.net

The country has had its share of grief over the past few weeks with the passing of some of its great entertainers. One of my major losses was Billy Mays, who I will class as an entertainer, although he has been called a "pitchman."

Granted, I resented his yelling at me as he rolled out his products, but then when I saw him behind the scenes in the series "Pitchman" he appeared with a sense of humor and as an all-round nice guy who grew up near Pittsburgh. He made sure his merchandise would live up to his pitch, as he shared in a percentage of the sales and had a reputation to protect as well.

I never bought any of his offers because I, as usual, always hesitated. You know, only if you order within the next 10 minutes we'll throw in all the extras and give you twofers to boot. By the time I had decided, the 10 minutes were long up, and knowing, of course, that the strict time limit would be enforced, I just didn't make the effort. I've always wondered, however, if I had called in, say, 12 minutes could I have persuaded Billy to take my order. Now, I'll never know.

Then there was Farrah. What can I say about her that won't alienate my fervent feminist readers? Please pardon me if I appear sexist, but she did look good in a swim suit, and she was smart with her college degree.

And now I come to my own and the country's major loss. I can barely see the keyboard through the tears which have been falling since I heard the terrible news of the death of the greatest entertainer of them all.

Granted, I wasn't a fan of all his music. Sometimes it was a little too wild for a country fan like me. But you had to admit the man had talent.

However, there was his personal life that was a little difficult to accept. How can one worship an entertainer so and gloss over all the bad things in that person's life? There were the underage children around him and some rumors about a Scout troop and various camping episodes.

What can I say about the dance steps he did and the almost floating in space, which, of course, drugs may have aided?

No, we cannot replace some people and when they provide inspiration for us all, we never recover from the loss. Yet it is with great sadness in my heart and with the grief of a nation that I must say farewell to my hero of the music world.

If you haven't guessed by now, I'm sure I needn't say much more for you to grasp that I am talking about that legend of country rap music, the one and only greatest, Six-Pack Stupor.

Six-Pack didn't begin his career in rap music, as it wasn't known and appreciated at the time. He began performing in the Tri-Holler region modestly and became a hit at the Over Easy Inn in Big Puf several years ago. He had the scars to show for those early years, especially one above his left eye where a stray beer bottle came smashing into him while he was belting out the classic Cold, Cold Heart.

It was chance that a Nashville producer became lost in the back holler region of Little Wheeze Crick and ended up one boisterous night at the Over Easy. He decided to stay a spell after meeting up with Sister Hannah, also a legend in her time, and her female associates who never discriminated against outsiders regardless of race, creed, politics, or, especially sexual orientation.

After hearing Six-Pack perform, who at the time was known by his real name of Ernie Hesselbacker, the producer soon had a contract signed and Ernie was on his way to the big time.

Ernie had a minor hit already with his own composition of Stoned in Stonewood. As he moved into Nashville, the simple young man from the holler became caught up in the whirl of a world he had never known. He had a few songs on the low rungs of the charts, but then his career began to unravel.

First came the drugs. He was introduced to them in the conventional manner in which most people are exposed: by a visit to a doctor. Bad cholesterol, have a drug; high blood pressure, have a drug; can't sleep well, have a drug…And so, having been introduced to drugs by the middle men of the amalgamated drug companies of America, Ernie figured drugs from a few street vendors might make him feel even better.

He found all the pills hard to swallow, so he washed them down with companion beverages. By this time, Ernie's performances were beginning to change.

He would stagger onto the stage, wander around in a daze, maybe fall a few times and do some wild maneuvers to regain his balance. The words to his songs became slurred and not understandable. But, surprisingly, the audience loved it. A major reviewer called Ernie an innovator of country music; he was declared country music's first rapper.

As no one understands the words to rap music anyway, except for the dirty ones, and the wilder the dance the better, Ernie achieved the fame so lacking when he was just plain Ernie Hesselbacker doing his country music.

His manager saw that a name change was needed to fit the image. And so Six-Pack Stupor was born, a man certainly to fit the name.

But, alas, as will come to all us humans, Ernie, or rather Six-Pack, died recently, seemingly from other than natural causes. A coroner has yet to sort out all the chemicals.

There is a move in Congress to establish a Six-Pack Stupor Day - no better group to declare such a day - in honor of the great star. As a former member of The Payroll club who always welcomed any day off with pay, I, and those who still serve and wait, will observe that day to celebrate, but the wary will stay away from doctors even if they celebrate a little too much, the best lesson of all that Six-Pack has left behind.