PHOTOS TAKEN BEFORE STATE POLICE TOOK CAMERA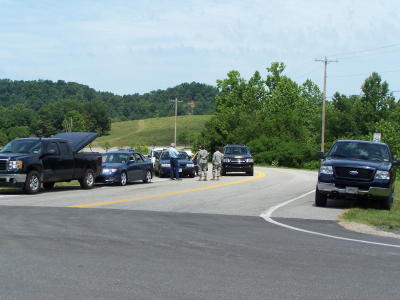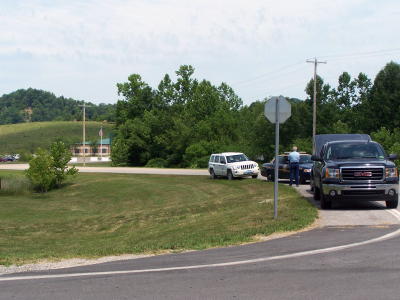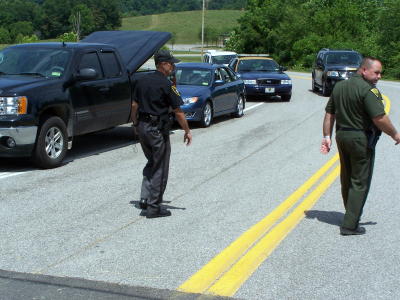 The three Photos in the order they were taken, that
resulted in the illegal confiscation of the Hur Herald's
camera - photos taken from the public road, showing activity
at reported bomb threat site, bottom photo shows Deputy Carl
Ballengee and Cpl. Doug Starcher just before camera confiscation
By Bob Weaver
State Police have yet to release any information regarding an alleged bomb threat at the Big Bend Armory Wednesday, which is likely among the lowest classified facilities in the country, generally unoccupied except by a couple of people during daylight hours.
During the alleged threat, the Herald took three photos of the responders near the highway, the armory was either out of view or barely in view from the public right-of-way.
Cpl. Doug Starcher advised the Herald no photography is allowed of federal facilities, after considering the photos were not of the armory, it seemed to be a moot issue.
The trooper, who has variously lost his cool over plain-view photos, often in direct violation of WV's public information code, wrestled the camera away and confiscated it.
The camera has been returned three days later.
Grantsville's new detachment commander Sgt. O.S. Starsick, when asked what law was broken by photographing the entrance to the armory, said "You were obstructing," referring to Cpl. Doug Starcher.
Simply put, the Hur Herald did not comply to Cpl. Starcher's illegal order.
The three photos show the intent and purpose, photographing the activity along the highway, certainly not to violate some vague Homeland Security edit that protects federal buildings from suspicious photographers.
Cpl. Starcher is well acquainted with me, being the key figure in a series of incidents where he and others have tended to ignore the civil rights and liberties guaranteed by code and constitutional law.
Reporters or photographers, under law, have no additional rights than members of the general public.
So, we're talking not only about reporting what is happening, we're also talking about your rights also perhaps being violated.
Standing up for the public's right to know, is what this is all about.
This pattern of conduct has been ongoing in Calhoun County, long before the Herald went online ten years ago.
Former Calhoun Chronicle reporter Susan Starr, just before her death, wrote to the Herald regarding a series of incidents where Starcher and other troopers sternly removed her from a public scene.
Sadly, State Police supervision, and the legislative or executive branches of government, have failed to correct the Calhoun mess, more often than not, standing behind their troopers.
The attacks on the Hur Herald's reporting or photography is a "shiny object," to cover some poor performance, and in some cases, serious misdeeds.
Those misdeeds have consistently been reported, everything from using faulty evidence to prosecute, stealing (resulting in an officer's firing by the agency), losing evidence in high profile cases to being accused of tainting jurors in the Ronnie Rush murder trial.
While the Herald has received lots of supportive e-mails about this latest incident, it is somewhat surprising that some people just think it's a "bad blood" thing between the Herald and state troopers.
I can assure you, what is at stake are your rights, your civil liberties and your freedom from harassment.