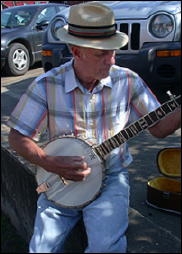 By Mack Samples
www.macksamples.com

According to those who keep track of such things, the Dog Star becomes dominant in the sky on July 3, 2009. That cosmic happening ushers in a sector of time that earthlings call the Dog Days of Summer. They will be around until August 11 at which time the Dog Star moves on to other environs of the universe.

In the modern world, even in West Virginia, most folks make little note of the fact that we are into Dog Days. But the older generations that lived along the riverbeds, deep in dark hollows, and high on mountain tops in our state considered the appearance of the Dog Star a big event.

My grandfather Samples always worried about whether Dog Days would "set in dry or wet." He knew that if they set in dry, his garden was going to suffer through a difficult period. So he always tried to catch enough surplus rain in rain barrels that he positioned around his house to water his garden for a few weeks. He would haul the barrels close to the garden and distribute the water with a hand pump. He would always try to get the first cutting of hay in the barn before Dog Days in case they set in wet. I can recall his phrase, "If Dog Days happens to set in wet, a man never would get his hay up in any shape fit for the cows to eat."

One of the unpleasant things I remember about the Dog Days of old was that many folks suffered "boils" on their body. The boils had their beginnings with a bug bite of some kind, but they often turned into very large and painful sores with a core in the middle. Some folks called them "fall sores" but they actually happened during the dog days of summer. They rarely happen nowadays. This leads me to believe that they were perhaps the result of poor personal hygiene. During those days, folks did not take a bath three times a day like they do in modern times because they could not step in the shower anytime they wanted to. Taking a bath required some major preparation.

Most folks where I grew up firmly believed that the chicken hawks went blind during Dog Days. It is a fact that they constantly circled the sky and squealed during that time frame. For people who had chickens, it was an excellent time to take a few of the hawks out. Chicken hawks were public enemy number one if you had a flock of chickens on your place.

Some of the above may be myth or fiction, but no one can argue that the Dog Star always brings summer miseries of one kind or another. Many times we have days of high heat and humidity that end in powerful thunderstorms. I think most agree that Dog Days is not an especially good time of the year whether they set in dry or wet.