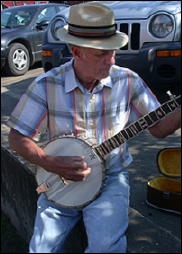 By Mack Samples
www.macksamples.com

Dandelion blooms have come and gone. I will sort of miss the yellow flowers that they produce but I will not miss their long-stemmed fuzzy tops that seem to re-appear a couple of hours after I get through mowing. But June ushers in a plethora of blossoms that bring the promise of more tasty treats.

As I rode my tractor up the hill a couple of days ago I noticed that the blackberry and raspberry blossoms are bursting forth. I like to watch them come to life because I know that those hot June days will cause those blossoms to turn into black beauties. Some early July day Thelma and I will pull on our high top boots, spray our long sleeved shirts and pants cuffs with OFF, go around the hill to our favorite picking spot, and fill our buckets. The heat will probably be oppressive and the thorns will tear at our backs, but we will enjoy every minute of it.

This morning as I cruised my eleven rows of potatoes to look for those despicable Colorado Beetles, I noticed that tops of the plants are starting to sprout some bloom. That means that we will be eating new potatoes in a couple of weeks. My tomatoes are also sprouting some bloom (even a couple of small tomatoes). I love to smell the vines and watch them grow into West Virginia's most tasty treat.

The sugar corn is only about "shoetop" high but the stalks look healthy and dark as they burst forth from the ground. They have that color that would have caused my dad to remark, "that corn looks rank." The half-runner beans are just starting to shoot their vines but I am always amazed at how fast the beans come on once they bloom. Lots of folks tell me that they don't raise half-runners because they don't like to string them. It's true they are hard to string but the taste makes the struggle worthwhile to me.

My honeybees are ecstatically happy as they enjoy the bursting forth of June. They have already filled one super, mostly with locust and poplar bloom. But June will cause the sour gum to burst forth and they will love that. Fortunately, my hollow sports several sour gum trees. All of my hives made it through the winter and I am thankful for that. Bee keeping has become a challenge in recent years.

There are many reasons for living in West Virginia, too many to count really. But watching June burst forth in all of its glory has surely got to be one of the most rewarding reasons. Being able to live here in the splendid isolation of my holler, "far from the madding crowd's ignoble strife," has to be another good reason.