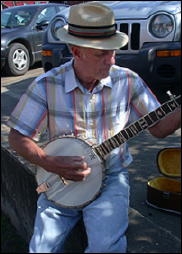 By Mack Samples
www.macksamples.com

A young neighbor remarked to me recently, "What did we ever do without duct tape and bungee cords?" It was an easy question for me because I well remember how we held things together back before the middle of the last century. It was called baling wire.

During those more simplistic days in rural West Virginia just about everybody had a milk cow, and usually a work horse. As a result, everyone put up a little hay. Most of it was put up loose with a pitchfork. But most usually, toward the end of the feeding season, everyone had to buy a few bales of hay from the local feed store. And in those days, hay bales were held together with wire. No one ever threw that wire away when they took the bales apart. They would usually wind it up neatly and hang it on a nail in the barn. It was a handy commodity to have around. What was it used for?

Anything that had come apart could usually be wired back together with baling wire. I can remember seeing fenders on old cars held onto the frame with the stuff. If you could not find a bolt when you put on your license plate, you could always wire it on. It was baling wire that fastened the garden gate and barn door. Broken handles on tools could easily be repaired with a good piece of baling wire. I saw porch swings and lawn furniture that had come apart put back together with a nice wiring job. It was actually much more durable than duct tape.

I have one lasting memory of baling wire that saved a couple of my brothers and me a seven mile walk. We were out for the evening in a 1949 Buick. When we started home, the Buick would not stay in gear. No matter which gear you put it in, as soon as you popped the clutch, it would jump out. When we crawled under the car with our trusty flashlight with Eveready batteries we could see the problem. The cogs on the drive selector were worn off. We figured we could put it in one gear and secure it with the baling wire we carried in the trunk. But when we got the wire, we realized that, because of the length of the wire we had, the only gear we could wire it in was reverse. So wire it in reverse we did. We backed the Buick the seven dark miles to the home place. Baling wire again saved the day (or the evening). I'm not sure duct tape would have handled that task!

Baling wire served one more purpose that needs to be mentioned. Back in those days when we all listened to Del Rio, Texas and WSM Nashville on the radio, we found out that the stations would come in better if we hooked a piece of baling wire to the radio and ran it up on the roof. You couldn't do that with duct tape.

In case you hadn't noticed, hay bales are now secured with twine. While the twine has some uses such as tying up tomato vines and as fuel for your beehive smoker, it will never take the place of baling wire.