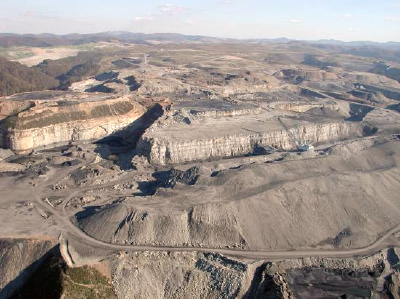 Kayford Mountain, one of the state's largest
mountaintop removal sites (Vivian Stockman photo)
"Where have all the flowers gone? Long time passing. Where
have all the flowers gone? Long time ago..." - Pete Seger
By Bob Weaver
It's a myth that West Virginia has fresh mountain air.
A report released Wednesday by The American Lung Association says West Virginia's power plants, as well as other sources of air pollution, make the state's air among the dirtiest in the nation.
The association says coal plants and other sources release tiny particles into the air - microscopic bits of soot and ash - which can lodge in your lungs and cause disease.
Four West Virginia cities made the list of the nation's most polluted metropolitan areas in particle pollution.
The Charleston and Huntington areas are currently tied for the 11th worst in the nation.
The Weirton-Steubenville metropolitan area ranks 16th, and the Martinsburg-Hagerstown area ranked 24th.
According to the EPA's Web site, 12 of West Virginia's counties have been determined by the EPA to fail EPA standards for particulate pollution, including Wood County.
West Virginia's power plants, as well as its lack of mass transit, both contribute to its high levels of particle pollution.
Now, the state is being considered a primary center for increasing coal-generated electricity to help power the eastern grid, including the construction of mega-tower transmission lines to export the power.
"With more and more research each year, we learn that the extent of the public health impact of particle pollution is much greater than we thought it was previously," said Dr. Norm Edelman, the American Lung Association's chief medical officer.
Those most susceptible to the effects of pollution are children and the elderly.
Coal fired power plants create both ozone and particle pollution.
There are indications that the Obama administration will be calling for stricter restrictions on power plant emissions.
The EPA announced Monday that it would reconsider three Bush administration rules that affect coal-fired power plants.