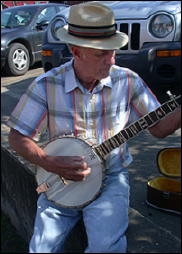 By Mack Samples
www.macksamples.com


Late March launches us into spring according to the calendar but it is really April that convinces us that things are changing for the better. If we peer back through the history of the English language, we notice that April, time and again, has inspired the great minds to be optimistic. The first tribute to April that we find among the English writers of old is none other than Geoffrey Chaucer as he introduced The Canterbury Tales in the Fourteenth Century.

Whan that Aprill with his shoures soote
The droghte of March hath perced to the roote,
And bathed every veyne in swich licour
Of which vertu engendered is the flour.

Broken down into the modern dialect, Chaucer is just telling us that when the April showers come rolling in and break the drought of March, causing moisture to bathe the roots, we are blessed with flowers. He goes on to say that such happenings inspire folks to want to get out and travel, or as he put it, to go on pilgrimages. Those words are just as true for those of us who currently inhabit America and have abused the English language to a nearly unrecognizable state. April makes us want to get out and do things.

During the early Sixteenth Century, Thomas Carew wrote a couple of rather spicy lines celebrating the arrival of April and spring.

The ox, which lately did for shelter fly into the stall,
Doth now securely lie in open fields.
And love no more is made by the fireside;
But in the cooler shade…

Then a couple of centuries later the British poet Robert Browning, while sojourning in Italy, penned a line that hits home with all us when southern breezes come rushing across the landscape and we are far from home. Oh, to be in England, now that April's there, he said as he opened his little poem entitled Home-Thoughts, From Abroad.

As I worked on this column I had to retrieve my old English Literature book that I used in college to make sure I had all of my quotes accurate. I nearly wore the book out while I was in college and during the first few years after I graduated. Then my son, Grayson, discovered it and he completely wore it out. I had to get it rebound.

Before I close I must be honest and confess that a modern British poet who lived well into the Twentieth Century was not so inspired by April. T.S. Elliot, who was proclaimed by critics as the greatest poet of his time wrote at the beginning of The Waste Land:

April is the cruellest month, breeding
Lilacs out of the dead land, mixing
Memory and desire, stirring
Dull roots with spring rain.

April is indeed sometimes cruel bringing havoc across the plains in the form of twisters and floods. But if you read The Waste Land you will probably come to the same conclusion that I did: No one knew what T.S. Elliot was talking about except T.S. Elliot.