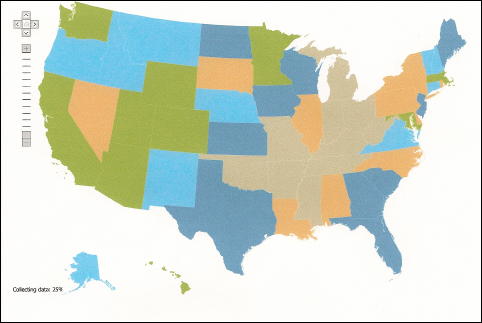 Tan colored states are those with the worst well-being rank
West Virginia is accustomed to being on the worst lists.
Now, an in-depth and extensive study on well-being places the state at rock bottom, although the difference between the 50-states is marginal.
Utah, Hawaii, Wyoming, Colorado and Minnesota top the listings.
A survey of Americans' well-being gives high marks to Utah, Hawaii and Wyoming, all of which offer plenty of outdoor recreation.
The survey was conducted by Gallup in partnership with Healthways and America's Health Insurance Plans.
The Gallup-Healthways Well-Being Index is described as the definitive barometer of quality of life in America, drawing data from 1,000 surveys per day, seven days per week to measure how Americans are faring physically, emotionally, socially and economically at any given point in time.
It is the largest effort ever undertaken to measure America's comprehensive well-being, encompassing about a half-million interviews since January 2008.