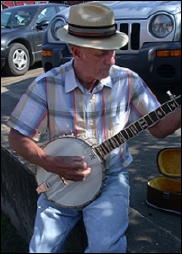 By Mack Samples
www.macksamples.com

Can I sleep in your barn tonight mister, it's damp, wet and cold on the ground,
Can I sleep in your barn tonight mister, for I have not a place to lie down.

Some folks say they were a product of the 1930's and the Great Depression. I am not sure about that, but I do remember the ones who were around during the 1940's and 50's. They were aimless, harmless men who wandered the rural highways and somehow found a way to survive. Most folks called them hobos, but perhaps in the modern vernacular they would be called homeless. Yet they tended to avoid the cities. The hobos walked endless miles and they surely inspired the words to the old song lyrics above.

There were rumors that some of them had once been wealthy. The migrants had lost their fortunes, it was said, and rather than face those who knew them during their high times, they just hit the road. It was better than suicide.

The walking hobos would tend to migrate toward the south during the winter months, but many of them liked to come to West Virginia during the summer. I can see why. I don't know of any place more beautiful than central West Virginia when the summer is full. Where else are there so many lush gardens with red tomatoes basking in the sun, just waiting to be picked?

How did these men survive? Well, the ones that I remember pretty much lived off the generosity of the country folks. The hobos were not above knocking on someone's door and asking if they could have a bite to eat. More often than not, they got a good handout. Sometimes, they even got asked to come in and have a meal. I knew of one hobo who would stop by the old country stores and ask for the ends of bologna loaves, the part that was too skinny to slice. He was also often rewarded with some stale bread.

If it looked like rain the drifting hobos did not mind asking if they could sleep in a barn or perhaps some kind of a shed. Most folks obliged and often sent them on their way the next morning with an egg sandwich. When the weather was good they would camp along the river somewhere and build a nice fire. The river banks were covered with free firewood. They carried practically no luggage, usually not much more than a blanket and a cooking pot or two.

Memories of the old hobos and the coming hard times makes one wonder if we might see their likes again. Probably not. If things really would get as bad as they were during the 1930's, we would probably see those who were down and out clustering in the cities. I think most folks now are too lazy to walk the roads and there are not many barns available.