By Bob Weaver

We occasionally report the latest happenings in Tok, Alaska, mostly because my son and his family live there, and I have visited the place - except in winter.

There has been a real cold snap over the region these past few days, with the lowest official temperature this year in nearby (75 miles) Chicken, Alaska, a chilly -72 degrees.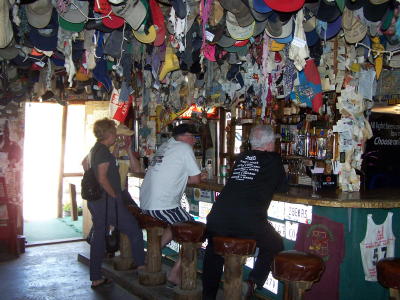 The Chicken bar door was wide open last July, but
likely closed tight this past week in -72 temperatures
Chicken, located close to the Yukon, draws a pretty good tourist crowd in the summer, but its' wintertime population is about a dozen. We assume they are keeping warm and lubricating themselves in the village's bar.
They do have great high-speed Internet service via satellite.
It was almost hot when we visited the village last July and panned for gold.
The temperature in Tok is dropping to -60 degrees, and once in a while warming up to -35 degrees, according to my son Eric. "It takes a lot of wood to keep the stoves going, with at least one person on fire-watch during the early morning hours," he said.
His wife Vickie, four kids and his mother-in-law are being entertained by three dogs and four cats, and lots of movies. The dogs have a keen sense of gaging the outside temperature when they leave the cozy log cabin to relieve themselves.
"If it's warmer, above -25, they run around a little, but if it's below, they do their business lightning speed," Eric said.
Eric reports fascinating sights in the sky related to ice crystals, freezing moisture which appears at -40, causing strange reflections in the night sky.
Down on the ground, ice crystals create mirages. For example, a single car with its lights on coming toward you looks like 50 sets of car lights. "Pretty scary sometimes," he said.
Last week, there was a widely reported event in Tok, likely a meteor falling from space.
Others around Tok speculated in might have been an exploding UFO.
A tremendous explosion, like a sonic boom, drew people outside, said Eric.
Following the explosion, "I could kind of hear it still rumbling, like thunder. I thought, what in the world?" said resident Kathy Olding.
"It was just like somebody took a pen and made a white cloud that went up and down and up and down and squiggly," she said.
Alaska State Troopers dispatcher Diane Kendall received several calls starting about 3:30 p.m. One caller reported the Martians had landed.
One caller said it was like a big fireball that exploded, with smoke everywhere.
Sgt. Freddie Wells, the state trooper on duty at the time, investigated. He said news that the mysterious incident was likely a meteor was somewhat reassuring, laying to rest Martian theories.
And that's the news from frosty Tok.