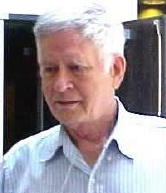 By Jack Cawthon
BBQRun@Verizon.net

Not until I had arrived in deer hunting camp far back in the hills did I notice that the aging Jeep I had inherited came with a prominent Obama-Biden sticker on its rear bumper. Try as I might, I couldn't scrape it off, so I did the next best thing: I lied to explain it.

No, the Jeep wasn't mine, I didn't know what would explain such a bumper sticker, especially promoting a candidate who was going to confiscate all guns, even if they were to be pried from the cold dead hands of their owners. Hey, I believe in the Second Amendment, although I'm a little nervous with words under the First when around those who are armed under the Second.

But in my heart I knew the sticker was right, if maybe a little bit to the left, just as in my heart I knew Barry Goldwater back in '64 was right, but maybe a little bit too far right. However, a funny thing had happened to my conservative viewpoint: I became a liberal, of sorts.

I can lay much of the blame, or credit, on a kindly professor I came into contact with while serving time in the state's largest mental institution, situated in Morgantown (It has a football team, which rather sets it apart.)

Although much of the setting was fitting for the "Cuckoo's Nest," with the caretakers worse off than the inmates, once in a while a bright flash of light would illuminate bleak academia much as a stray meteor does the earth from time to time.

Such was a message I received one day while sitting at my desk pretending to be in alignment with the day's program, whatever it was. It didn't arrive as a bright mental wash that often signals the onset of paranoia, but an inter-office memo announcing news of a credit union. I certainly had no use back then in my right-wing views for any sort of union, but this one was paying interest on money sent to it, and that fit well within my right-wing capitalist viewpoint.

So, I sent a check for a few dollars. In a few days I received a call from Dr. Carl Taylor, who headed up the credit union, asking if I might be willing to serve on its board of directors. I felt at long last someone had recognized my latent abilities to handle high finance, and I hastily accepted the honor. Only much later, Dr. Taylor told me that of the hundreds of solicitations he had sent out, I was the only one who had sent him money. Shades of Illinois!

Thus began my first personal involvement in the movement of money from those who have to those who don't and want to have. A credit union, back then as we operated, and is now supposed to operate, is a not-for-profit device composed of members of a related group, such as a company, school, or such. Today, the concept has evolved until just about any warm body can join just about any credit union, and you can't tell a credit union from a bank, except the one doesn't pay taxes to the consternation of the other comprised of real live bankers.

Dr. Taylor had assumed leadership of the institution's credit union when it was on the verge of going belly-up, a position now in vogue by many financial organizations. There was no federal bailout in place back then, so he did the next best thing: working hard to pull in members and money. We had around a couple of hundred thousand dollars in assets when I joined, the present one claiming over 16 million. Most of the increase came later through payroll deductions, proving that most people don't have the discipline to save unless they have help keeping their hands off, like with tax deductions.

A couple of hundred thousand dollars doesn't go far when you have more borrowers than savers, especially when some who sought loans didn't want to pay the money back. That is when I learned of at least three groups of people who obtain loans: those who need money and will sacrifice to pay it back; those who have intentions of paying it back but through no fault of their own can't; and those who never think twice of returning one red cent, so sue me!

Alas, we had far too many of the latter group. Even one was too much with our limited resources. I soon learned that the kindly, mild mannered, bookish-looking professor could turn into a tiger when it came to collecting from deadbeats. He put all of his compassion into the first two groups, but on one occasion, I recall, he took with him a burly professor of chemistry named Peter Popovich, who served on the board, to the mouth of a coal mine to await a miner who had left our domain for underground—one had to admire him for choosing a better profession—only to skip out on a dept owed.

The dept was repaid, but Taylor and Popovich took much ribbing and were awarded various mob titles by us with lesser courage.

Such is how I became acquainted with Professor Carl B. Taylor. He taught rural sociology, under various assignments, once being placed in the home economics department. He was a former Pennsylvanian, obtaining an AB degree from Hobart College, later entering Columbia University to study for a Ph.D. in sociology. For a time he was a roommate with our own Ken Hechler. He taught at Hobart and William Smith College until 1947, and taught in various Navy programs during the war years.

In 1947 he joined the back-to-the-land movement to his home roots in Pennsylvania and for 10 years was active in the country life, teaching in area schools, serving as township assessor, school director and Grange master. He and his wife built a residence on their land, where they lived until a serious tractor accident cut his rural experience short.

In 1957 he joined the rural sociology department at Penn State and completed his Ph.D. requirements. In 1961 he came to West Virginia, serving until 1978 when mandatory retirement at the age of 65 took out many highly qualified and beloved professors such as Taylor, with the change in age termination coming shortly thereafter, but too late for him.

My association with him continued after I received a parole, not necessarily based on good behavior, from the institution. He was a gifted writer, delving into local history of his Pennsylvania region and producing some excellent local history publications. Jim Comstock had carried a column in his West Virginia Hillbilly weekly written by a retired Bethany College professor under the heading "Old Professor." After Hillbilly was acquired by Sandy McCauley and the original Old Professor column no longer carried I suggested to McCauley that he ask Carl Taylor to become Old Professor II, and after some coaxing Dr. Taylor began submitting a column, which soon became one of Hillbilly's most popular sections.

In my own columns in Hillbilly I often poked fun at sociologists and Pennsylvanians. Dr. Taylor took it all in fun, as he knew of my experiences as an editor, when I was given a series of publications written by sociologists to "edit." I never understood the language, which was about as clear as an Iranian hill dialect to me with charts, tables and "cohorts" sprinkled about. I made sure to use a good grade of paper, some color, and put in a comma or two and was declared an excellent editor by the authors. He knew we West Virginians received our share of ridicule from our northern neighbors and smiled at my Pennsylvania barbs, which are all in fun, in case I have any readers in that backward state.

I became close again with Dr. Taylor in his classes conducted under the Lifelong Learners program. These were classes for older people who wished to continue learning just for the fun and stimulation. His classes were always highly popular, as he used the informal chairs in a circle technique and welcomed input from his "students."

When I began writing for Jim Comstock's Hillbilly I may have adopted my character of Arley Cleeter somewhat on the image of Carl Taylor, an ex-Pennsylvanian who comes to the hills and brings a new aspect of culture to the hill folks of Big Puf, although I never once believed that Carl Taylor had grown or inhaled a noxious weed popular within Arley's past counter culture. But, hey, literary license, you know!

Dr. Carl B. Taylor died this past September at the age of 95, independent to the end. He had given up participation in his Learner program and his teaching of many years of classes in chair seat weaving for the community adult school program in Monongalia County. (One of my cherished possessions is a child's rocker built for me by my dad, with the seat rewoven by Dr. Taylor.) He felt that in later years his hearing and comprehension had conspired against him, but those of us who knew him well never detected a loss of that which had made him so great. So what if we needed to speak a little louder!

I attribute much of my move to a more liberal understanding of humankind to my association with this great man. Certainly, in my heart I know he was right, even to the left, and the right person to shed some much needed light into lives that needed it. In tribute, I may just drive around with that Obama-Biden sticker on the Jeep, at least until next deer season.