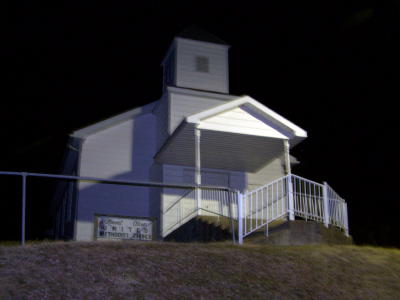 Hur's Mt. Olive Church, established in
1879, is as silent its' nearby graveyard
By Bob Weaver 2010
The church in the Village of Hur will be dark again this Christmas eve, empty and silent.
It's pretty much been that way for several years, not only in this village, but as communities have faded to towns with malls many miles away and church attendance has declined.
Certainly the population has fallen in these parts.
Vacant churches dot the Calhoun landscape, some converted to housing or hunting cabins, while others are falling down.
Even some of our old country cemeteries are sprouting brush and trees, the long-time caretakers having departed this world.
Parking in front of the church, it is the memories that breaks the silence, the voices of people from 50 years ago, singing, testifying, preaching and being part of the annual Christmas program, the most anticipated event of the year.
The poorest of families came, bringing all their children, from the ridges and hollers around Hur, to join the rest who had blue-collar jobs. There was little distinction in class.
School teacher Commodore Nutter came with his flashlight, walking a few miles from his place down on Barnes Run, taking a shortcut out the Kerby Ridge. His hair slicked down with Wildroot cream oil, wearing his gray work pants and shirt.
Of course, longtime preacher Dorsey Miller was always there, walking from down on Buckhorn, to join the Coons and the Husks from out the Husk Ridge, carrying lanterns for their journey home.
Rev. Miller came to the village from Gilmer County right after World War I to fill an opening in the circuit churches. He never left, except to spend his last days in a Clarksburg nursing home where he died at 104.
Elah and Marion Whisman, without exception, stood before the congregation years on end, she singing and he playing the guitar, belting out the old favorites.
Usually Jake Kerby and daughter Rosalee came with them. Jake brought with him more humor than God could bestow on one human being.
Church leader Eddie Starcher, whose wife was one of Hur's switchboard operators, would stoke up the fire and strike a match to the gas lights in those pre-electric days. The church was never locked. Eddie was the proud song leader for congregational singing.
Other Starchers came, a clan as "thick as broom sedge," and all the kids from the Smith families.
Holly Kerby's bunch was always there, as was school teacher Rufus Stemple, who dutifully kept the minutes and financial records. Rufus, before he died, came to church on his Moped, long before the energy crisis.
Then came the Slider's, with two descendants still gracing the village, Louie, the self-proclaimed mayor of Hur and his brother Tommy.
In the early years, widowed Leona Sturms, who was the longtime crank'em up switchboard operator, sent her three kids, Jim, Billy and Carolyn.
Visitors would come from afar in their cars, from Mt. Zion, St. Paul, Richardson and Stony Point.
On dark and cold nights, I have tried to imagine the church bell ringing to announce the Christmas program, a task most often performed by church servant Holly Kerby. Holly was frequently cast as Ebenezer Scrooge in Dicken's "Christmas Carol."
It was in that play I commenced my short-lived acting career as Tiny Tim.
The wonderful Christmas plays, usually written and directed by Pauline Kerby, would be taken on-the-road to area churches.
When the annual program was over, my family would walk back home on the next hill, to settle in for the night and Christmas Day.
While saddened about changing times when communities were connected, I continue to revel with these pleasant memories.
See Remembering Church Christmas, Make Way For Pauline