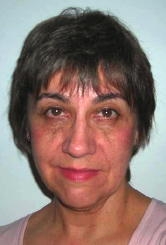 By Alice Hickman
heartpaths@yahoo.com

It was a sunny afternoon. Mother and Sister were visiting at Auntie's house, sitting on the front porch wiling the time away. Mother had gone into the kitchen to fix herself a cup of coffee. Coffee always adds to the front porch experience in our family tribe.

"Look, A black bear!" Sister exclaimed. As she spoke the bear dropped to all four feet. It had been standing upright on two feet when she first spotted it across the road from the house in the bottom. The sound of her voice had got its attention and it started moving toward the creek and on into the wooded area.

Soon Mother returned with her coffee. "You missed it Mom" said Sister. "We saw a bear."

Sister told me this story later that evening. "I don't know how to judge the size of a bear, except to say it would compare to the body size of a cow" she said as she tried to describe what she thought had been an adult bear that they had seen.

Mother, Auntie and Sister had remained on the porch talking about the unexpected encounter they had just witnessed and the wonderment of it. All at once Mother said "Look up there at the top of the hill. There goes the bear. I see it." The bear was moving through open areas as it went out of sight.

A few days later, relatives from Ohio were visiting and seen what may have been the same bear in the same general area.

I was chatting with a neighbor recently who told about seeing a pack of coyotes in our friendly little neighborhood.

My conclusion is that 'these here woods' could be the wildwoods of West Virginia.

Wildwoods or not, this is where my heart is!