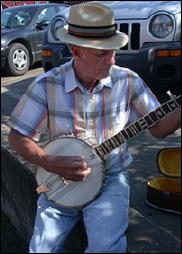 By Mack Samples
www.macksamples.com

When the stock market crashed in October of 1929 my dad was 26 years old. He had two kids and two more years to pay on his house. He worked for the Hope Natural Gas Company at Cornwell Station which was located on the Kanawha-Clay County line about six miles from Clendenin. He did not worry too much about the stock market crash because he did not have any money anyway. He did not lose a dime in the crash.

Lots of folks don't realize it, but the hard times did not start for working people until 1931. The Dow Jones Industrial Average fell sixteen percent during the five weeks that ended on November 20, 1931. By January 1, 1932, it had dropped another twenty percent. It lost another 47 percent by July of 1932. All told, it had lost eighty-eight percent of its value in 36 months. It was in 1931 that the massive layoffs began. My dad lost his job with Hope Gas in April of 1931. He told me once that he made the last payment on his house the day he got laid off.

The next week he traded his automobile for a Jersey cow and three hogs. He had always raised a big garden, but that spring he tripled the size of it. There was no unemployment compensation at that time. In fact, government assistance of any kind was non-existent. He knew that once he spent the money that he had on hand, there would be no more. But, coming from a family that had pretty much lived off the land, he did not panic. He told me many times that during the six months he was unemployed, he ate as good or better as he ever had.

There were, of course, other things to worry about. There were no new clothes to be bought. He was very concerned about shoes for his kids, but was able to acquire hand-me-downs from family and neighbors. He had two utility bills, gas and electric, and he did not know how he was going to pay those. He was able to buy a few staple groceries on credit from a relative who ran a local store. Then, just when things started to look really grim, he had a stroke of good fortune.

A rather well-to-do gentleman from Charleston by the name of John Britton had a camp on the Elk River very near my dad's place. Mr. Britton was, among other things, the Chief of Police in Charleston and was a man with influential friends. He soon secured a good paying job for my dad and his brother-in-law at the Owen-Illinois Bottle Plant in Kanawha City. The brother-in-law still had a car so they began making the 30 mile commute to work. My dad named his next son after John Britton.

They both worked at the Bottle Plant until 1934 when my dad was called back to work by Hope Gas where he remained until he retired. He actually prospered during the 30's and bought him a nice Buick in 1936. Yet, he got a taste of hard times, really hard times. Those of us born after the Great Depression really don't know what hard times are. We may find out yet!