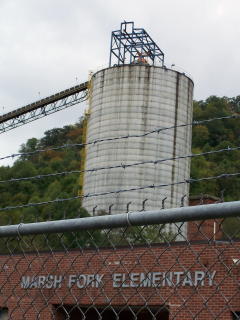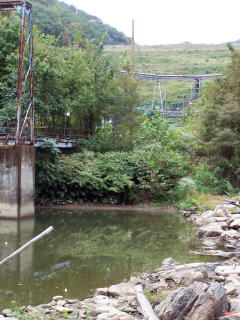 The Symposium traveled to Marsh Fork Elementary to view
the impact of coal mining on education, with Massey plant
towering over the school, surrounded by barbed wire fence,
and a 2.6 billion gallon sludge pond hanging above the school
By Bob Weaver
Former Challenge WV coordinator Linda Martin described West Virginia as "A Rich place with poor people," with extractors controlling the wealth, directly affecting education in the Mountain State.
Martin's comments came during a symposium in Charleston in September that focused on the state's extractive industries, and how they impact education.
The event included Coal River Mountain Watch, the Sierra Club, Challenge WV and the Beatrice and Joseph Coleman Foundation.
Challenge WV coordinator Thomas Ramey said "The dialogue raised awareness about the impact of extraction and helped Challenge WV look at new ways of tackling old problems."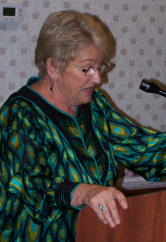 Linda Martin (pictured left) cited a 1980 study which revealed about 15% of the state's taxes was paid by "corporate landlords" with WV citizens paying about 85%. "Corporations likely pay much less tax today," she said.
Mingo County school board member Billy Duty said "West Virginians are captive to silence, in fear of their security. Outsiders bought up our richness. Corporate greed has taken an enormous bite."
"Coal is king over most decisions," Duty said, including the school consolidation movement in Mingo County. The closure of the county's high schools to be moved to a remote strip site, with the coal company given enormous perks and breaks for eventual donation of the property.
Martin said the West Virginia legislature, in fear of what could happen with the well-known Recht decision regarding delivering education more equally to the state's rural students, passed a law that said no corporations could be taxed beyond a 4% increase annually.
TRANSPARENCY NEED WITH COAL INDUSTRY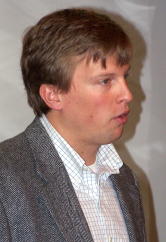 Ted Boettner (left) executive director for the WV Center on Budget and Public Policy, told conference attendees "There are serious problems with self-reporting of coal ownership," saying there are 180,000 parcels in the state.
"Worse yet, most of the reporting is confidential. We need more accountability and transparency," Boettner said, saying only four people actually work the ownership problem.
"In many counties, coal is under-taxed, with lost revenue allowing schools to suffer," he said.
Judy Bond, the director of Coal River Mountain watch, said coal companies have ravaged mountains and mountain communities, not only with terrific environmental impact but with a consistent effort to de-populate the coal fields.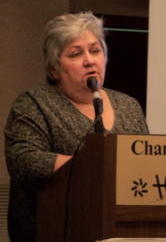 Lorelei Scarbro (left) a Challenge WV fellow and staffer for Coal River Mountain Watch, said "Many school closures are linked to coal wanting the area cleared for mountaintop removal or to avoid costs by later donating land to good causes."
"Much is ignored regarding the health and safety of students," Scarbro said, citing Marsh Fork Elementary School in Raleigh County, situated beside a giant coal tower and immediately underneath a 2.8 billion gallon sludge dam.
A CLEAN AND SAFE ENVIRONMENT
"We want our children to have a clean and safe place to learn," she said, not in the umbrella of coal dust, rock dust, chemicals used to clean coal and polluted sludge run-off.
The State Department of Education, Gov. Joe Manchin, the State and Raleigh County boards have declared the school a safe environment, with some of the region's most rural, poor and vulnerable children being affected.
Challenge WV coordinator Thomas Ramey said "To allow children to go to a building located beside such a plant and under a sludge dam is unconscionable."
Coal River water is polluted. Ground water from wells in several regions is not only non-drinkable, but cannot be used for bathing or dish washing.
Mingo County board of education president Charles "Butch" West said the Mingo consolidation battle is not about education or safety of children, "It is about money, money, money."
"It's 'follow the money' deal making, with King Coal and a county economic development group that needs to have the school situated on a non-permitted strip site," he said.
"Worse yet, the company is being relieved of environmental considerations, selling millions of dollars worth of coal, using 80 foot of fill on which to immediately construct the new school," West said.
"They've even given the coal company a no-bid contract to build a section of the King Coal Highway, putting them in the road building business.
"Follow the money. Follow the money."
"Then on top of it all, the school is sitting on a number of abandoned underground mines, one of which is still on fire," West said.
Mingo board member Bill Duty says "When I ask state officials, I get a blank stare."
The symposium honored the late activist Ann Porter for her efforts with Marsh Fork Elementary School and the myriad of problems linked to mountaintop removal.