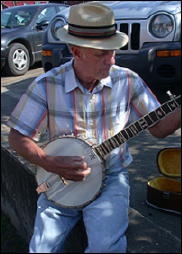 By Mack Samples
www.macksamples.com

A recent article in the Wall Street Journal sang the praises of 91 year old Kitty Wells, the "Undisputed Queen of Country Music" back in the 1950's and early 1960's.

It brought back a flood of memories for those of us who used to dance to the juke box. Or, when we were not dancing, we sat at the bar and tore the labels off Falls City Beer while we listened to Kitty sing.

The article contained several quotes from Kitty about why she thought she had enjoyed success during that time when female country singers were pretty scarce.

Many of her hits evoked the drama in the lives of down-home folks who came to town to haunt the bars. But I think the most telling line from Kitty was when she said she looked for a song "that had a good melody and good words."

That quote probably explains why country music no longer has the vast following that it used to. Most modern country music has neither a good melody nor good words. In fact, some of them have no melody at all. And the lyrics? Most of them are so stupid and bland that a half-educated person can't stand to listen to them.

The other thing lacking in modern country music is a unique sound. When Kitty's band played the introduction to a song, there was no doubt in your mind that Kitty was going to start singing.

You knew when you heard "Shot" Jackson open with the steel guitar, or Paul Warren open with his fiddle, that it was Kitty's band. And, it wasn't just Kitty's band. When Ernest Tubb's Texas Troubadours, with Billy Byrd on guitar, played an introduction, there was no doubt in your mind who it was.

I won't even mention Hank Williams and The Drifting Cowboys. Talk about a unique sound! Johnny Cash, when he first came up, probably had the last truly unique sound in country music.

Speaking of Hank Williams, who in modern country music can write lyrics like "I Can't Help It If I'm Still in Love with You," or "Cold, Cold Heart"? And, back to Ernest Tubb, his "Waltz Across Texas," might be the best lyrics for a country waltz ever. The people who produce modern country music don't even know what waltz tempo is.

Speaking of those who produce country music, I guess that is where most of the problem lies. They won't allow anyone to be unique. They say they know what sells "this is how you will do it."

I close with a verse from "I Can't Help It" to prove my point.

A picture of the past came slowly stealing
As I brushed your arm and passed so close to you
And suddenly I got that old time feeling
I can't help it if I'm still in love with you.

How long has it been since anyone wrote a verse like that? Case closed.