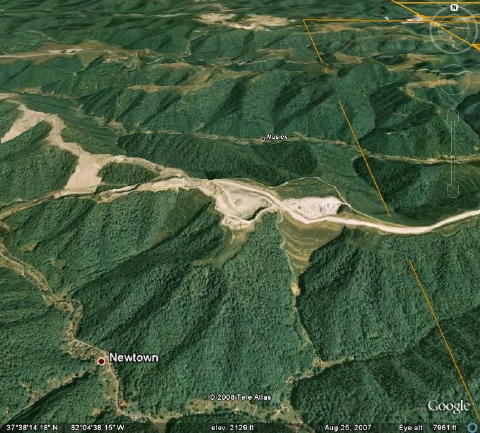 Photo by earth.google.com
By Bob Weaver
This is an aerial view of a remote mountaintop removal site that West Virginia education officials have chosen for the new Mingo consolidated high school.
The coal company, which has changed hands three times, is donating the site to Mingo County for a new consolidated school, which could cost in excess of $75 million, not including expensive infrastructure required to connect the site to a highway and utilities.
The costs will be borne by taxpayers.
Consolidated schools have yet to save the taxpayer money.
The coal outfit has received major breaks, including not needing a coal mining permit, breaks on reclamation and being given a no-bid contract for King Coal Highway road construction.
The project is a centerpiece for the Mingo County Re-Development Authority, which needs the school in that location to facilitate their development project.
Mingo County board president Charles "Butch" West says "Follow the money," indicating much of the development project is linked to key Mingo County citizens that will profiteer from the construction.
It will certainly be among the most expensive schools ever built in West Virginia for about 800 students.
West says "The price tag is enormous."
The coal company, after removing millions of dollars of coal, will provide an 80-foot fill on which to build the school, the construction is now set for 2011.
State officials remain blind-sighted that the site sits over several abandoned underground mines, one of which has been burning for several years.
The site is far removed from basic services that provide for student health and safety.
Mingo County citizens have widely opposed the closure of five high schools, creating long bus rides for many students, even electing four school members to represent their opposition.
State courts have ruled, based on state code, that educational bureaucrats have authority over elected officials or county opinion, when the state takes-over county school systems.
Mingo citizens will be voting on a levy in November. While that money will initially be directed toward operating costs, it could then be shifted to finance the consolidated school.
Challenge WV has called consolidation efforts the use of a "bloody hammer," a move frequently undertaken when the state education officials take over county school systems.
Mingo County board member Bill Duty claims that reasons used by the state for the take-over have only gotten worse under state management, wondering why "No one is holding them accountable."