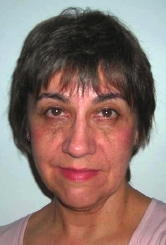 By Alice Hickman
heartpaths@yahoo.com

We have had some unusual gardening encounters this year. We planted late but everything was looking good, except for the potatoes. Only about twenty percent or less came up. I filled in the empty spaces with seventy-five tomato plants on the 4th of July, sinking into the wet soil ankle deep.

Our small patch of corn and the green beans were maturing nicely. We had a few ears to sample and were anxious to freeze most of the rest. Of course, that was before the coons found our garden. That was when I really came to understand the old saying, "Happy as coons in a corn patch". Needless to say, I kissed my corn harvest good bye. I had planted three late rows and found comfort that maybe we would enjoy a late summer meal of corn on the cob.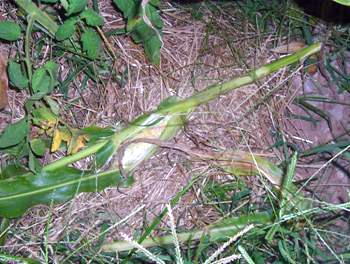 One of several corncob remains left on ground
Next, the half-runner beans were ready to pick. At that time I was not able to take care of them due to illness, so my daughter came early one morning before I awoke and picked them. She called later to tell me that I didn't have to worry because she had strung them and her mother-in-law was going to help her pressure can them later that day. I felt so thankful.
"Ring". "Hello". "I really messed up and I'm so sorry Mom", my daughter's voice exclaimed. Then she explained that her father-in-law had stopped by and said "one is supposed to pick 'only' the large beans, not the little ones". "You leave the little ones on the vine until they get big and then you have a second picking" he had told her. "Not to worry" I said. "I'm thankful for any beans at all and it isn't your fault that I neglected to teach you more about the skills of preserving food".
As the end of summer was nearing, tomatoes were coming on, but with apple trees nearby drawing deer in every night, we realized that an electric fence was our only hope to save the tomatoes, which by now were becoming quite large.
Husband and I worked one afternoon and drove the corner posts and strung the line. He with one arm in a sling, due to recent surgery on his shoulder and I with wire cutters in one hand and a step ladder in the other, we took it one step at a time. He was the mastermind and I was the instrument. I felt rather proud of myself. He said if I stuck with him, he might teach me something yet.
The next morning we arose early for coffee on the porch. After a short stroll, Husband returned and said, "we had a fire during the night". When I went to inspect I was horrified to see the electric fence had malfunctioned and melted the main corner post burning a small section of straw which had surrounded it. I was glad that I had watered the mulch the evening before or the whole patch would probably have burnt. We repaired the damage and felt confident that our tomato patch was secured against critter invasion once again.
We have enjoyed delicious cantaloupes from volunteer plants where I had thrown out peelings and seeds. This unplanned and uncultivated crop seemed to be producing better than all of our other plantings.
The second crop of corn was about ready a few days ago and I was checking it every day and hoping to enjoy just one good meal with corn on the cob. That dream was short lived when I discovered that the coons came visiting again a couple nights ago.
I was not amused!
As dusk approached that evening, I discovered the neighbor's cat, "Scooter" mounted on a tree stump next to our garden. I instantly named him my 'guard cat' and promised him special treats if he would guard my garden for the rest of the season. Now why in the world would I imagine that a cat would be able to fulfill such a request? I don't know but he is a beautiful cat and I just thought that this story might be more interesting if I threw in a little twist with a kitty.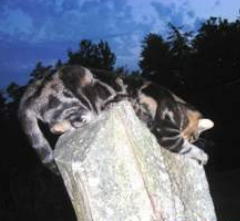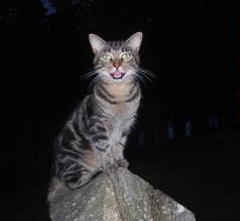 Scooter sharpening his paws and taking his guard position
Today began like the norm with a pot of coffee. I began to tidy up the kitchen, but was interrupted when Husband came back inside to say, "There is a story out here if you want to write it". "You don't have to hurry". "It's not going anywhere".
Of course my curiosity took me outside within minutes.
This time the electric fence was down on two sides with the corner post bent at the ground and leaning to the side.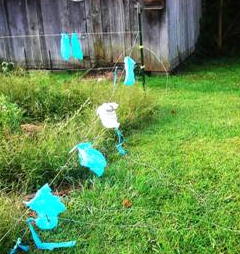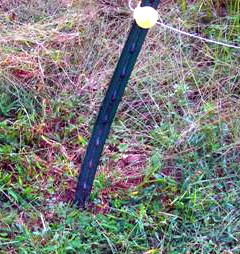 "I don't think the deer that got tangled up in this will be back anytime soon", Husband said. "It is hard to understand how a deer could have bent the metal post", he continued.
Later a neighbor stopped by and observed the damage that was done. "Maybe it was a bear", he commented.
Well we don't know what happened at our garden last night while we were sleeping.
It probably would have made an interesting video.
Once again repairs have been made and the electric is flowing. Whether or not this late crop of tomatoes will ripen and end up in canning jars or not remains to be seen. I am tempted to pick them green and preserve some for fried green tomatoes and use the rest for a favorite recipe of green tomato relish.
So everything considered I conclude that it is a miracle that we even had something similar to a vegetable garden this summer. The only question remaining is what the finished product will look like in my kitchen cupboard.
Apple trees have hung heavy this summer. Sister remarked, "If the deer eat all the apples then it is only fitting and proper that I slaughter one or two and put some meat on the table instead of applesauce".
Life on our mini farm! Isn't it grand?
That's where the heart is!