By Bob Weaver

"The fat lady has not sung, she's been gagged" said Mingo County school board president Charles S. "Butch" West, speaking about the county's long-time battle to consolidate Mingo County's high schools.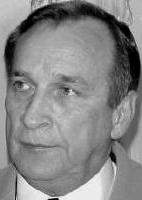 West (pictured right) says the project has little to do with the safety and education of Mingo county children - "It is mostly about stuffing pockets."
The consolidated high school is a project of the WV Department of Education, the School Building Authority and the State Board of Education, after the state took over the system several years ago.
It calls for closing at least five schools, most of which were built in the 1970s or 80s, and in some instances placing students on long, tortuous bus rides of well over one-and-one half hours each way.
School board members have called it the bloody hammer of consolidation, against the will of elected board members and the will of Mingo county voters, saying the board has been neutered.
Dwight Dials, the state appointed superintendent said it isn't a case of "if" but "when" work will begin on the school located on a remote mountain that lacks infrastructure.
"It will be a great day for Mingo County when the school is built and ready for occupancy," Dials said.
The construction date has been pushed forward again, starting in 2011.
THE PRICE TAG IS ENORMOUS
"It will be built on coal company donated land, a phrase that stretches reality," said West, with enormous tax breaks and perks given the company, everything from not requiring a coal permit, reclamation breaks and even giving the company a no-bid contract for building a section on the King Coal Highway.
West said "There is no way of knowing what the price tag will be on this school," since it's connected to an economic development plan by the Mingo Economic Redevelopment Authority.
Currently, there is a $73.8 million dollar cost for the school project, which doesn't include furnishings, grounds, sport facilities, etc.
The price tag of getting infrastructure, West says, is millions and millions of dollars for roads, water, sewage, "But that will be split to help the developers, but nearly all will be paid by the taxpayers."
The authority needs the public school back on the mountain in order to get development money. The school building is along the King Coal Highway, which some officials estimate might not get completed for 50 years.
"You might want to check and see who is really benefiting from this development deal," West said, "including Senator Chafin's family."
"Nepotism is alive and well," he continued.
Ethics charges have allegedly been brought against Mingo County's Economic Redevelopment Director Mike Whitt over his personal purchase of a 3.5 acre lot near the site, making a quick turn-around profit of $100,000.
"Martha Stewart went to jail for insider information, but in Mingo County it's just business," said West, "I think some officials believe this is about education, but I believe it is about pure money making... They want that school back there where they have a golf course and have development sites."
West says State School Superintendent Steve Paine recently came to the county, "admonishing the local board for not getting on board."
"He told us there is no way we'll have local control until this school is built," said West.
West contends the state take-over was a sham, "After a fairly good audit, two months later another audit was done, and the school system had gone to hell."
"There has been little if any progress under state control, with test scores getting worse," he said.
West contends there are underground coal mines under the school site, and at one time about $1 million was spent to put out a mine fire, which he says is still burning.
SCHOOL LEVY UP FOR GRABS
Mingo voters are scheduled to go to the polls in November to renew a 3-year excess school levy for $8 million.
Most of the school board members have a problem with the state-controlled administration already having $3.6 million, which West says they are holding back to help build the new school.
"They deny it exists, and Bill Duty has called for an audit," said West.
West says "Why should we hit up the taxpayers for the full levy amount," money that generally goes toward operational expenses. "We want to support teachers and services."
Voters could show the SBA, the State Board and state officials they will no longer stand for being disenfranchised, he said.
West indicates he is personally opposed to the current levy, maintaining, "We're after truth, not personnel. I don't want Mingo taxpayer's money back on that mountain."
CONSOLIDATION IS CONSTITUTIONAL ISSUE
"I have tried to honor my pledge to Mingo voters who elected me, although the school board is being held hostage," West said.
Over 6,000 Mingo citizens signed a petition against the project.
State courts have ruled against the Mingo board, with four of the elected board members opposing the consolidation. The courts have maintained that the legislature has neutered the authority of local school boards.
"Still, this is a major constitutional issue that questions how bureaucrats can dictate over elected officials," said West."We're being treated like we've broken the law, but we are the ones that get blamed and sued."
West says it certainly is taxation without representation.
He calls it tyranny.
"We can't get anyone to represent our constitution position since the state courts ruled against us," saying he is talking with the ACLU to look at the case.
School board member Bill Duty over several months has been asking questions, which he says have gone unanswered. At times, he has used the Freedom of Information Act in an attempt to get financials and information from his own board.
"It's pretty crazy when board members have no power, I'm asked to sign checks for ill-begotten decisions," West said. "I'm refusing to sign checks for the consolidated school."
He says finding checks and balances has been difficult - "We need constitutional relief."
West says Mingo legislators support the consolidated school, with Gov. Joe Manchin saying he has received letters of support from them.
"We've tried to be respectful, but Gov. Manchin has "lied" about his position several times.
"I've never changed my position on what is the best way to provide education in community schools. I still have fire in my belly to stand up for this," he concluded.