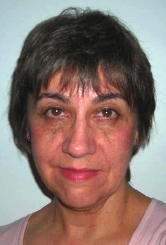 By Alice Hickman
heartpaths@yahoo.com

My mother was the school teacher at Broomstick School in northern Calhoun County around 1960. The Earl and Ruby Holbert family lived at Norman Ridge in those days and the children attended Broomstick School. I was a student there also. Our families became close friends.

Some years later the Holbert family moved to Florida. Mother continued to keep in touch by mail and occasional visits to West Virginia by some of the children.

The plan for a visit began a few days earlier when I received a phone call from Starling Holbert, one of the older children. Starling lives in Parkersburg area now. He said that his sisters were planning to come to West Virginia in a few days for their family reunion and hoped they could visit with my mother before leaving.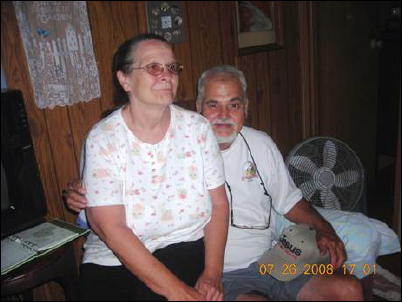 Starling and Faye Holbert
I don't recall if I had seen my old friends in these many years, but on a Saturday evening in July of this year, I had a sweet reunion with Anna Belle, Daisy and her daughter, Kathy, Starling and his wife Faye.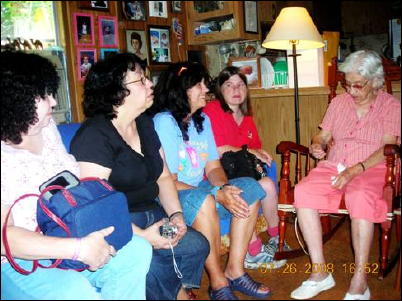 (L to R) Daisy, Kathy, Anna Belle, Daisy's daughter and Mae Jennings
We gathered at the home of my sister and our mother. It was not an extended visit due to mother's ill health on that day, but we had a lovely time. Of course Mom was the center of everyone's attention.
Anna Belle shared that she had worked in the school system for many years. "It just seemed to be my calling", she said.
Daisy had been a nurse for several years. "And a good one she was", her siblings agreed. She eventually had to give up her career due to her health.
Kathy is a librarian where she lives. She shared her passion for books. Of course, I felt kin' to her because I have the same passion.
(L to R) Anna Belle, Alice, Starling and Daisy
Anna Belle remembered the time she stayed all night with me and we satisfied our sweet tooth by getting into the brown sugar.
I told Kathy, "I remember the supper table and the wonderful meal that your mother prepared when I was visiting once". "I think I recall hot bread". "Yes", she replied and she told me how she could never quite make yeast bread as good as her mother's.
Anna Belle had tried to call me earlier in the day as they motored toward Calhoun. "But I couldn't get a signal on my cell phone". "I'm a city girl now", she said. It was very apparent that she would not want to come back here and live.
The hour passed quickly and departure time came too soon.
Yes, it was a sweet reunion with dear friends. It was as though time had stood still. We agreed to keep in touch and I hope we do. Regardless, such treasured moments in life are priceless and at times like these I know where my heart is.