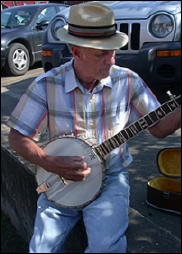 By Mack Samples
www.macksamples.com

Those of you who paid attention in high school English class will recall that Robert Frost found some joy in the solitude of cutting weeds with the mowing scythe. He told us that …"there was never a sound beside the wood but one, and that was my long scythe whispering to the ground." As he went about the task of mowing, he found some pleasure in the work and an inspiration for philosophical thought. Frost was not sure what the scythe was whispering but he came up with some interesting possibilities. One of his thoughts was that there is not much merit in idle time.

He was right, you know. As I think about mowing with the scythe in my youth, it sometimes was a pleasurable experience. If you got out before the sun came up and before the dew went away, the pull of the weeds felt good as your scythe laid them to waste. It felt even better if you happened to hit a patch of touch-me-nots down along a creek somewhere.

My grandfather taught me that you should always stop after fifteen or twenty licks with the scythe and whet the blade a few times. Whetting the blade not only kept it sharp, but it gave the mower time to rest, and more time to think. And, indeed, a leisurely morning with the mowing scythe would cause a person to think about some things that he would not ordinarily contemplate. It was a quiet, solitary task.

Unfortunately, about the only place you see a mowing scythe nowadays is in a museum or an antique store. I still have a couple on my place but they hang unused on the rafters of the outbuilding. They have been replaced by that remarkable contraption that we call a weedeater. Weedeaters are powered by a two-cycle engine and there is nothing much more loud and obnoxious than a two-cycle engine. So much for solitude.

And there is no reason to stop once you start the task until you run out of gas. In fact, a weedeater sort of mesmerizes you and you just keep going until you are red hot and exhausted. Furthermore, ear protectors and safety glasses take all of the joy out of communing with nature as you work. You are not likely to ever have a philosophical thought while you are using a weedeater.

I suppose you can get more done with a weedeater than you can a mowing scythe, and most folks say it does a better job. But like most things in modern life, there is a trade off.

After logging in about four hours with my weedeater recently on a steep road bank, I decided there is no joy in that task and it does not whisper a thing to you.

Old Robert Frost. He wrote some pretty good stuff.