HOT RACES, HITCHES AND SQUABBLES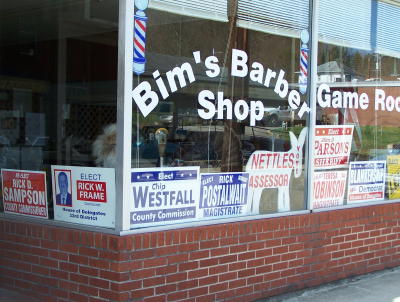 By Bob Weaver, Opinion And Comment
This political cycle in Calhoun has been marked by an extraordinary use of road signs. They're everywhere.
Not unlike many parts of the country, the public engagement in organized political activities has been minimal, few coming out to work or campaign within a party structure.
Absent is a healthy two-party system, upon which constitutional government is based.
The cliché, "All is fair in love, war, and politics" implies that people suspend the rules for such special circumstances, passion becoming the overwhelming factor.
There has been a little excitement this season.
The political history of the county is riddled with such behavior, from giving away chicken fryers for voter favor to buying votes with half-pint whiskey.
In the early history of the county, locals took their squabbles seriously, engaging in street fights or election day riots. Read Hur's 1928 Election-Fists, Rocks And Clubs
Fortunately there has been a moving away from those old time politics. In Calhoun, and most of the northern West Virginia counties, vote buying has been long gone.
While the old political factions have mostly faded into history, there is still a remnant of the Morris-Stemple faction, heirs apparent of the late Carl Morris, who offered up a slate of candidates.
Carl enjoyed politics immensely and was good at the game, soft spoken, convincing, and certainly not shy about using his clout.
Now, son Jim Morris has taken on the political mantle, with his employee and the county's long-time House of Delegates member Bill Stemple, who is now running for county Sheriff.
Stemple has consistently violated an old political rule by not only campaigning for himself, but for the candidates on the Morris-Stemple slate.
Perhaps Morris' most memorable contribution to the current election cycle was his visit to Calhoun assessor Jason Nettle's office in the courthouse.
Morris went behind the assessor's office counter, removed Nettles' name plate from his desk, went to the office rest room and placed the nameplate on the back of commode.
One account said he flushed the commode.
Walking back into the office, he announced to members of the staff -"This is where he [Nettles] does his best work."
Perhaps the second most memorable event is Jim Lemon, a candidate for assessor, verbally complaining to chief elections official County Clerk Richard Kirby.
Lemon complained about his opponent assessor Nettles not being in compliance with campaign law by not having 'Paid for by the Candidate' posted on his wooden home-made campaign donkeys.
Kirby dutifully took corrective action on the matter, after which it was discovered Lemon himself had failed to comply with the campaign law.
Kirby then took corrective action with Lemon. See Election Law Violations Surface In Calhoun Races