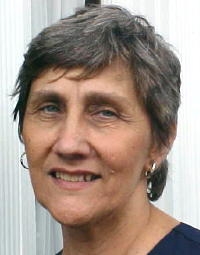 By Ann Richards
heartpaths@yahoo.com

Recent political news has forced me to leave my neutral position of having nothing to say and to get up on the soap box and shout my thoughts about some things. Hang the consequences. I don't care who agrees or disagrees. If fact, I hope to get some response.

When are thousands of Americans going to stop being apathetic and start taking the responsibility for their constitutional rights? At least to the right to freedom of speech. Let your voice be heard. At the very least, vote when you have the opportunity to do so.

I am not going to wait around until I can go to the polls and secretly cast my vote. I exercise my right to say what I want to say. It will no longer be secret. Nor do I assume that anybody cares about what I have to say.

Let me get to the point. I am opposed to one certain woman being my president. Furthermore, I am concerned about the ignorance of most Americans when it comes to our rights to run this country instead of allowing politicians to do so. We have neglected our rights. We are supposed to be the people for the people. We should find some statesmen instead of politicians to represent us in the government.

Hilary Clinton is not capable of running this country. Do you want her deciding whether or not to defend America against terrorists? What does she stand for? What exactly is her platform?

Until her face became a constant Fox News icon, all I knew about her is that she is wife of our former President, Bill Clinton and democratic senator from New Jersey.

All I have seen is her sobbing that she is tired of the battle. Battle for what? Running against a Black man? Or is it that she is battling to save face for Bill Clinton. He ruined his reputation while in the White House. Other former presidents may have had affairs, but they protected the noble office of president of the United States by not exposing their private life to the world to the disgrace of our country.

Back to Hilary. What does she stand for? All I have heard her say is that she will bring change to the country. This country doesn't need to be changed. It is still what is was in the beginning. The best place to live in the world. It's the airways and the media that need to be changed in order to present both sides of the issues this country faces. Not just the biased opinions of the news reporters. Furthermore, the citizens need to wake up and take some action for themselves.

Besides this, Hilary is too busy slinging nasty remarks about Barack Obama, President Bush and former deceased President Ronald Reagan.

Do we want this basket case running things in Washington? Or her right arm man Bill, the strength of her life? Or is the other way around? Who knows? The infamous duo! Bill and Hilary!

In my opinion (and everybody has an opinion), Hilary is a product of the long past feminist movement which was all about gender, power and control. She does not represent the vast majority of the women in America.

Another thought, where are the Clinton's really getting their campaign money? Want to venture an educated guess? If we, the people would do what we are supposed to do, vote and put our own choice in offices, there would be no need for the waste of millions of tax dollars.

Don't assume to know my political views. I am not against having a woman as president. It is about time we women step up and be involved. But, we don't need to act like drama queens to do so. If Condoleezza Rice was running for president I would vote for her. So there, nobody can accuse me of being anti-feminist or of being a bigot.

One more point. Every time I see Hilary Clinton, I see Bill Clinton. And even if I could forget about that for a moment, Fox News won't allow it. Not against Fox News either. It presents all the politicians viewpoints and the political analysts viewpoints.

I don't have anything to say about all the other men running in this election for the president of the United States of America. I do have some thoughts about them, but will keep that to myself for now. Everybody should look closely at the platforms of each one of them. Then vote because of what you want and for what you believe in.

The first time Bill Clinton ran for president, I voted for him. I didn't know what I believed in then. Gave it no thought. Since then, I grew up. His conduct in the White House made me take a hard look at what I really believe in. What is alarming is that there seems to be a general acceptance of his actions while being president. Instead of looking after the state of affairs, he was busy having an affair of his own behind closed doors. Were his concerns for the public good or did he have us on his mind at all?

As the leader goes, so goes the country.

Think about that!

My heart is not just in my little community of Nobe where I can stick my head in the sand and live in denial that more is at stake than my little hidden part of the world. My heart is in America and learning more and doing more than sitting around pretending that nothing is going on in the rest of the world. My heart is in the future of this country and the future of the world.

What can I do about anything? This. I can say what I want to say. Or is that right also being taken away? That too is in jeopardy.

We need to realize that we do have a Constitution and we have the responsibility to read it and to get busy using it instead of leaving it up to elected officials to do whatever they please while we believe that we have done all we need to do by voting.

I hope I have made somebody mad. Come back at me. I can take it. At least you will be using your right to freedom of speech.

From Where The Heart Is, that's all for now.