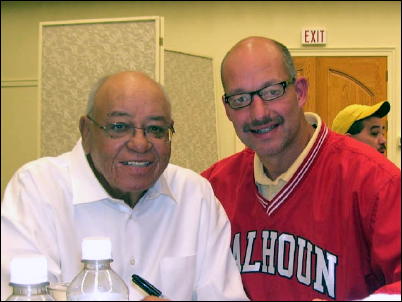 Coach Sterns (R) meets the "real life" Coach Herman Boone (L)
By Jim Sullivan
Calhoun County High School Head Football Coach and Arnoldsburg School Principal Bryan Sterns coached the biggest game of the season last Friday night, rushed home to get as much sleep as he could, got up early Saturday morning and drove to Glade Springs Resort to attend the West Virginia Institute for 21st Century Leadership.
Having had a big week getting ready for the St. Mary's game along with his duties as Arnoldsburg School, Principal Sterns was ready to hit the road to home after the afternoon education session.
Charles Heinlein, Director of the Institute, whom Bryan played football with in high school urged him to stay for the Keynote Speaker.
Sterns told Heinlein that he had to be in Parkersburg at 9 am Sunday morning for the Playoff selection meetings at the WVSSAC.
Heinlein's persistence eventually paid off and Sterns stayed for the presentation.
The room was dark, a large projection screen lit up with a scene from the movie "Remember the Titans."
The movie is about the integration of a school made up of predominately black and white students and the challenges of bringing a football team together to be successful.
The head coach was played by Denzel Washington and was based on the real life experiences of coach Herman Boone.
The movie clip ends and the lights brighten to reveal Herman Boone walking to the podium.
"Coach Boone is a tremendous motivational speaker," said Sterns, who then quoted Boone saying "I think they could have found a better looking actor to play me other than Denzel Washington."
After the presentation Coach Sterns and Coach Boone sat down for a one on one conversation over dinner.
Sterns told Boone about loosing the last game of the season the night before and the upcoming playoff bid.
Coach Boone shared a couple of trick plays and wrote the following words on Glade Springs stationary to Coach Sterns:
"To the Calhoun County Red Devils, Good Luck on the Playoffs. It's OK to rest, but you are never allowed to quit."
The Red Devil's first play-off game starts at 1:30 p.m. Saturday at Mt. Zion.