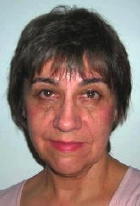 By Alice Hickman

The journey was intended to be a trip to Tamarack where Mom has emphatically wanted to go ever since Sister and I went without her a few years ago. However, a last minute adjustment was required and our "day at Tamarack" has been rescheduled. Instead Mom, Auntie and I headed toward the West Virginia Mountains on a road trip.

My goal was to get far enough into the mountains to make the trip rewarding, but not so far that the miles would accumulate and be too much for these two elderly sisters. Of course both goals couldn't possibly be reached simultaneously.

I packed the staples that seemed appropriate. Bottles of water, hand wipes, emergency snack food, nitroglycerin pills, pillows, blankets and pain tablets.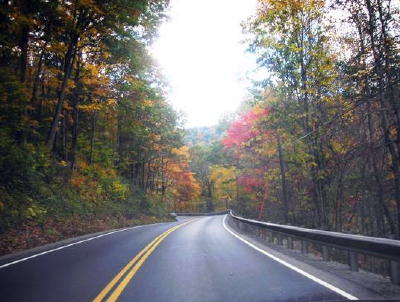 We passed several interesting icons, including an outhouse whose sign read, "Relief Station".
People were gathering in walnuts in a large wheel barrow at another homestead.
Our first break for lunch was in Elkins at a small café off the main drag. At first I feared the worse; that Mom couldn't possible find something on the menu to satisfy her. She is a dedicated believer of having three meals a day with a reasonable amount of variety. However, she had little difficulty in choosing and ended up with a lovely meal, leaving Auntie and I wishing we had reconsidered our choices. Everything was very good. The neighborhood locals came and went. Everyone knew everyone else. We joined into pleasant conversations and left feeling like we had been among friends.
Leaving Elkins by Rt. 219 S and 15 to Webster Springs was a good choice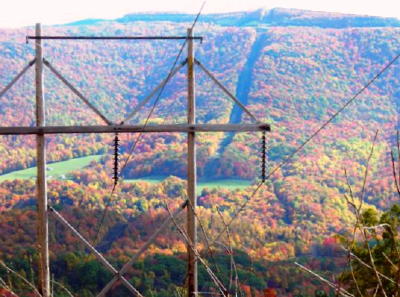 Capturing the vast heights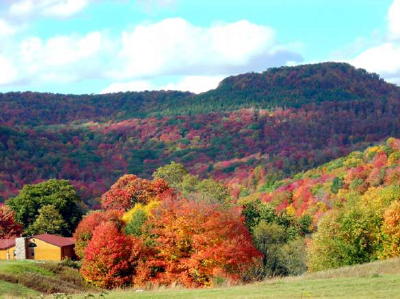 The colors were brilliant with an abundance of deep burgundies
One stop for pictures found us conversing with local residents who lived high on top of the mountain that we were taking snapshots of. The lady introduced herself saying, "I told everyone that this was the weekend to come"!
While winding across the mountain tops there were several brief stops for such things as collecting leaves of each color for Mom. Red, yellow, orange and burgundy.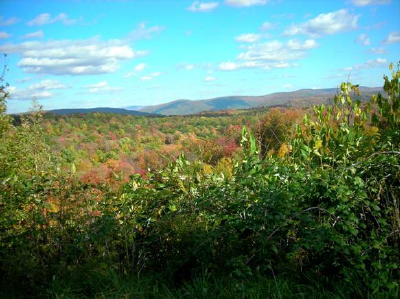 Absorbing the distant mountains and valleys in between
Another stop halfway down one mountain was required as a "nitro" under the tongue soothed the aching jaws and nausea from chest pain. As I already said, "This road trip was a challenge at best".
Dropping off into Webster Springs, we entered an inviting "Subway" with aching bodies and unsteady legs where a quick pit stop and refreshing was in order.
Heading out for Flatwoods we deliberated about the hours ahead and wished for a shorter route home. We agreed that a supper stop would be in order soon.
Arrival at home around eight o'clock, found us weary and unsure about our tomorrows. "Whether or not we would ever see another one!"
"Home Sweet Home"
"Selah"! That is where the heart is.