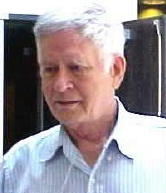 By Jack Cawthon
BBQRun@Verizon.net

I was talking recently with Bob Weaver, if you'll pardon the name dropping, and we were discussing how our political views change with aging, which we both are doing.

Bob said that he was becoming more conservative with age. (Has anyone noticed that slant in his writings?) This is a normal process, I have learned, stemming from maturity, wisdom and forsaking the follies of youth. In other words, achieving good common sense.

However, I am becoming more liberal with the passing years, which, of course, may be considered abnormal, but completely normal for someone who has lived in Morgantown for untold years and who had spent 20 misspent years within the state's largest mental institution thereat. I was certain to catch some diseases from the prolonged exposure; perhaps the most debilitating one has been halitosis of the mind.

I can't say I wasn't raised right. My parents on both sides were staunch Republicans back in those early days of Gilmer County when being Republican wasn't cool, as Barbara Mandrell crooned about her early days in country music.

I saw only recently where Republicans in Gilmer County had formed a committee of 12 members. In my days there, there weren't 12 Republicans in the entire county. This may say something about changing political views, or, more, I suspect of outsiders entering and taking over many of our native haunts.

As we are now entering the beginnings of the national lottery, commonly known as the presidential primaries, we must make choices. Although I am still hesitant to wear my "I love Hillary" tee shirt, I think I may be developing a crush on this woman of Bill's, be she only one of many of his'n.

I also believe that having a timber rattler for a pet can be quite exciting, if one respects venom from whatever source. Although the good folks of the serpent handling church at Jolo, as well as my own Holy Rattlers, have the faith, mine is not that far along. I feel I need some practice with some garter snakes yet.

So, all said, one man's pleasure may be another man's poison and that might encompass the whole country.

But every once in a while, when my head clears a little from the days of yore when I was held hostage and brain washed in the institution, laid low by higher education, I see a glimmer of another sort.

Maybe it's a return to my youth and what my mammy and pappy instilled in me during those bleak minority years when the only token we received from Roosevelt's New Deal was a new outhouse. Although it seemed pure luxury back then, I think Roosevelt must have had a great sense of humor bestowing this upon Republicans. It wasn't that we really lacked convenience, as our outhouse, built over the run, had continual flush with the definite advantage that the Democrats living at the mouth of the holler had to take our effluent.

Lest I appear beating around the George Junior Bush, another choice has arisen from the deep, where he was a brave submarine commander, at least on the sliver screen: good, ole Fred Thompson.

He is in the mold of a kindly, grandfatherly Ronald Reagan. Regardless of what you thought of President Reagan, he looked the part, acted the part, and spoke the part. What more do we need in a president? If I learn that a giant meteor is about to strike the earth and burn us all to a crisp, or that a nuclear device will be detonated and blow us to kingdom come, I want someone to assure that even if we all are to die, we should look on the bright side. I don't want to hear, "stay the course," or "complete the mission."

Besides his ability as an actor, his experience as a senator, and his vigor to attract a woman 24 years his junior and produce two young offspring, Thompson once dated Lorrie Morgan, daughter of George Morgan of classic country music fame, back when country music was real country, a tradition still respected through the daughter. So, we can rightly say that Thompson has been into country music as its very source, another plus as far as I am concerned.

While we are on the subject of country music and politics, the current issue of Time Magazine has an interview with Merle Haggard, he of the Okie from Muskogee fame of yore. He is a Hillary fan and has written a song endorsing her.

Haggard says the biggest thing going for Hillary is Bill, and you know he is always going. This is also my greatest attraction. I am a sucker for twofers, whether it's two for the price of one at Kroger or Mickey Dee's. So, we get 'em both. As Haggard concludes: "And I figure that whatever she doesn't know, he does."

If only she picks up half of what Bill knew from interning at his desk, I will be willing to go at a moment's notice, should she ask that I serve at her will and pleasure.