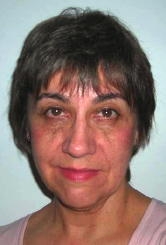 By Alice Hickman

Sunday proved to be another eventful and full day for Mom. After attending the Nobe Church Homecoming, she returned home after lunch and awaited the expected visit from old friends that had called the previous day promising to see her on Sunday.

She was not disappointed!

Willard and Kathryn Ellyson from Fort Meyers, Florida soon arrived at my door with Kathryn's sister, Iwana Stevens who lives in Cleveland, Ohio. They were in the area for a few days visiting old friends.

Mom had been told that one of the sisters had married a relative of hers. The relative, Willard, was the son of Walter and Rosa Price Ellyson. Walter's parents were Isaac and Maranda Carylon Ellyson. Isaac was a brother to John Ellyson who married Sara Woodford. John and Sara were Mom's great grandparents.
L-R: Iwana Black Stevens, Mae Weaver Jennings
(Mom), Willard and Kathryn Black Ellyson
The sisters were daughters of Ed and Mary Black who lived on Laurel and were friends of the Weavers of Trace Fork. Mom had taught school at Laurel twice. She was not married the first time and recalled that two of her students were Albert Paul and Duane Black, brothers of Iwana and Kathryn.
The next hour was spent around my kitchen table conversing with lots of questions being answered about other relatives, friends and previous neighbors. Iwana talked with Mom at length, trying to fill in many gaps and voids of their lives.
Stories were exchanged as they recalled them. Mom remembered how two and three week revivals had been held at Trace Fork Church, with people coming from all directions including over the hill and down the "holler" behind the church after dark carrying lanterns.
"That was how we would come" said Iwana. "Over the hill from Laurel". "Sometimes we would come cross and come down the Ferguson hollow instead".
We were told that an upcoming wedding will take place at the Trace Fork Church soon. The Church is closed we think, but still maintained and filled at least annually as people come once again for the church homecoming.
Questions that remained unanswered included, "When did the Revere Post Office first start?" It was established that it was there in 1933. "Ask Bernard if he knows when it first began", Iwana said. "I will", I promised.
The hour passed quickly and soon it was time to part, with hopes exchanged that next year would bring another visit.
Even though I attempted to take notes they became jumbled as I tried to sort them out. After comparing them with previous family history records, I compiled what I believe to be the correct connection between Mom and Willard.
Once again I was left feeling that I missed a time of long ago when things were simpler. Life was different, but people are the same. If they allow themselves to be.
And that is where the heart is!