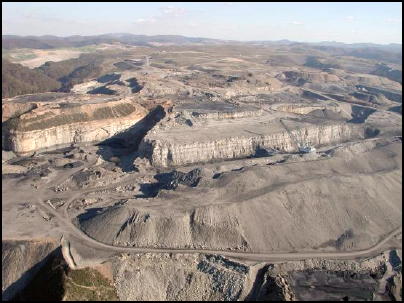 What remains of Kayford Mountain in Raleigh
County, WV. The large dragline in the center of
photo is 22 stories tall (Photo by Vivian Stockman)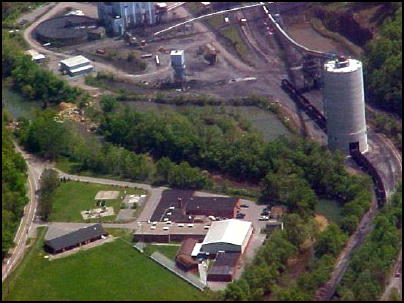 Flyover of Marsh Fork Elementary School - Also in
Raleigh County, shows the close proximaty of Massey
Energy's Shumate coal sludge impoundment and Goals
Coal prep plant (Photo by Brittany Williams)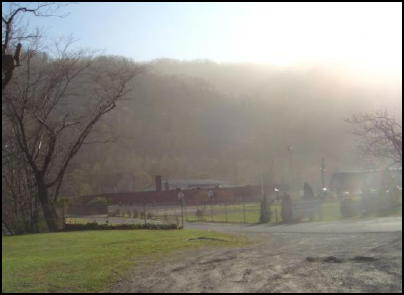 Photo taken shortly after large blast near Marsh Fork
Elementary School...thick dust settled over school and
into the town of Edwight (Photo by Sarah Haltom April, 2007)
HISTORY LESSON: "OPEN FOR BUSINESS HAS MEANT GROSS POVERTY IN WEST VIRGINIA" - Hur Herald
By Bob Weaver
The Bush administration is issuing a regulation today that will enshrine the coal mining practice of mountaintop removal.
The rule is Bush's final gift to the industry practice to allow its expansion, providing that "mine operators minimize the debris and cause the least environmental harm," terms which are not clearly defined and to some extent merely restate existing law.
Judy Bonds from Coal River Mountain Watch said "This is an act of war on our West Virginia mountains and our people."
Existing law has rarely been followed, resulting in tens of thousands of citations.
The Office of Surface Mining in the Interior Department drafted the rule, which will be subject to a 60-day comment period.
Officials indicated that it was not likely to be changed substantially.
The regulation is the culmination of six and a half years of work by the administration to make it easier for mining companies to dig more coal to meet growing energy demands and reduce dependence on foreign oil, according to the New York Times.
Government and industry officials say the rules are needed to clarify existing laws, which have been challenged in court and applied unevenly.
Clarify is a popular word.
Gov. Joe Manchin used the "clarify" word this week in an attempt to take-away royalty rights from West Virginia royalty holders.
Luke Popovich, a spokesman for the National Mining Association, said that unless mine owners were allowed to dump mine waste in streams and valleys it would be impossible to operate in mountainous regions like West Virginia that hold some of the richest low-sulfur coal seams.
Mountaintop mining generates huge volumes of waste, known as excess spoil or overburden, and it has to go somewhere.
For many years in West Virginia, it has been trucked away and dumped in remote hollows, away from sight.
Environmental activists say the rule change will lead to accelerated pillage of vast tracts and the obliteration of hundreds of miles of streams in West Virginia and Appalachia.
Joe Lovett, executive director of the Appalachian Center for the Economy and the Environment in Lewisburg, said "What is at stake is the future of Appalachia. This is an attempt to make legal what has long been illegal."
Mountaintop mining is a destructive practice where mountain tops are flattened with bulldozers and dynamited, clearing all vegetation, with so-called reclamation disallowing the growth of woodlands for a hundred years or more.
The coal seams are scraped with gigantic machines called draglines.
The law requires mining companies to reclaim and replant the land, but the process always produces excess debris and a weak ground cover.
About half the coal in West Virginia is from mountaintop mining.
It is cheaper than from underground mines.
A 1983 rule forbids virtually all mining within 100 feet of a river or stream.
The Interior Department has drafted the proposal to try to "clear up" a 10-year legal and regulatory dispute over how the 1983 rule should be applied.
The change is to be published today in The Federal Register.
The Army Corps of Engineers, state mining authorities and local courts have read the rule liberally over the years, allowing extensive mountaintop mining and dumping of debris in coal-rich regions of West Virginia and Appalachia.
Hundreds of miles of streams have already been filled with hundreds more pending.
The Bush administration has been much friendlier to mining interests, which have made large contributors to the Republican Party, and has worked on the new rule change since 2001.
The early stages of the revision process were supported by J. Stephen Griles, a former industry lobbyist who was the deputy interior secretary from 2001 to 2004.
Mr. Griles had been deputy director of the Office of Surface Mining in the Reagan administration.
In June, Mr. Griles was sentenced to 10 months in prison and three years' probation for lying to a Senate committee about his ties to Jack Abramoff, the lobbyist at the heart of a corruption scandal who is now in prison.
Mr. Lovett of the Appalachian Center said "They are not strengthening the buffer zone rule. They are just destroying it. By slight of hand, they are removing one of the few protections streams now have from the most egregious mining activities."