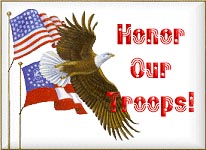 We are encouraging our readers to express their thoughts, feelings and opinions about our national tragedy. If you have not done so, please e-mail us at bob@hurherald.com or FAX at 304-354-6183 or snail mail at HC65-Box 120, Mt. Zion WV 26151.

Please remember that the opinions expressed here are strictly of those who wrote them.

Hi Bob,
Thanks for letting us share beliefs. The Hur Herald is amazing.
The fear that America will kill the innocent in this war against terrorism has shadowed my E-mail. A woman, quoted in an A. P. release, introduced the same sentiment when she asked, "What have wars ever gained us?" The Vietnam war failed because of fuzzy thinking and lack of will, but is this true of all wars? The Revolutionary? The two world wars?
In the second world war my classmates and relatives found it necessary to kill civilians as they battled to stop Hitler's march and the German persecution of Jews. The extermination of Hitler, had it been possible, would not have stopped the powerful Nazi regime, nor would love and re-working our foreign policy have slowed Stalin during the first world war
America must keep its resolve to deal with countries which permit and promote terrorism. We must do this for those born after us, and for those who died for our free way of life. Taking innocent life will be horrendous, but so would losing this open society that many died for.
America, like all nations, has faults, yet we are a great nation. We live in a country that even lets us discuss these faults. Disagreeing with another country's philosophy does not stir us to violence, but we must do all that is necessary to protect every free society.
It has been suggested that those who died in New York and Washington might not be comfortable in seeing that their deaths initiated a chain of violence. I suggest that they, along with family members, might be consoled by knowing these deaths resulted in an awakening that has moved us to take action to stop such hideous terrorist behavior.
I, too, believe that we can, "love peace into reality." I agree with the words, "Let there be peace and let it begin with me." I also realize that, just as it takes a lot of rain drops to turn the earth green, it would take a lot of love and prayer to change this earth.
It is evident that all people would not join us in this endeavor. While I continue to pray for peace and reach out with love to those around me, I feel compelled to back my leaders in this show of necessary strength.
I believe there are many creative, compassionate, intuitive, women and men who feel this evil of terrorism must be faced with strength.
Do I want my grandsons in Afghanistan? Of course not. Do I think it might be necessary for them, and others, to go there? Yes, if we rise to this call for freedom as our country has in the past.
Those with a more pacifist bent love this country as much as I do. Thank God for this "sweet land of liberty" where we can disagree...Jeanne Wilson