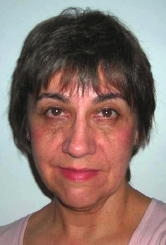 By Alice Hickman

As for Mom and Auntie, that is where their heart is. Mom and Auntie were chatting yesterday evening and I sat listening.

"Was the flood on Mom's birthday or was it on her birthday that it started raining," asked Mom? "Well I always have to think about it, because I get confused to," Auntie replied. They agreed that it was the night of August 4th that the rain began.

Delphia Weaver and her children lived near the head of Trace Fork in the community of Revere.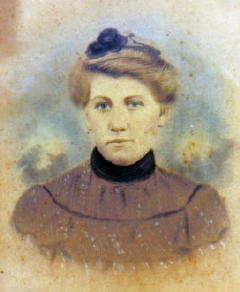 Delphia Lockard Weaver
Her two story home still stands near the head of
Trace Fork, around 100 years old and in much disrepair.
"It didn't begin raining until after dark," Mom began as she commenced to telling me what she remembered. "I was down the road visiting the Charlie McCray family in the afternoon and as I walked back home later I remember looking up at the sky which looked like a long dark road between the tall hills on each side." "I knew that it was coming a storm," she continued.
Auntie says that Mom was up late writing a letter to my father, she thought. I conclude that this was probably right since they had married July 16th the previous month. He was in the army at that time, I believe.
Around 10:30 or 11 p.m. she awakened Auntie because the house had started leaking and they scurried to take care of a water puddle in the floor. In the meantime, Uncle Bernard awoke and joined them. The water was rising quickly and soon running under the house. Uncle and Auntie hurried outside to rescue young chicks that were in a coup in the yard. "We wadded water up to our knees to get them and moved them into a small chicken house on a higher bank," Auntie said. "Sister Ava woke up also and joined us, but Mom and Sister Mary remained asleep as water ran under the parlor floor where they lay in their beds."
"Our garden washed away. Large heads of cabbage were taken out by the roots and caught in the garden fence at least half way up with a lot of trash and other debris that came out of the holler behind the house. This creek joined the main creek in front of our home and there was a lot of back water which made it deeper around our house," Auntie explained.
"It was a cloud burst!" Mom exclaimed. "Our pasture fence washed away. Mom got Simon Amos to come and help Brother Bernard build the fence back."
"Brother Johnny was in the army then and away," Auntie added. "We had to bring the cows off the hill to milk them and then drive them back on the hill for the night."
There were lives lost in this flood. At Trace Fork and Latonia and other communities as well.
Homes were washed away at Tanner. Some in Braxton County also, they remembered. White Pine was mostly washed away.
Tracy Lydick's house and cellar house in the side of the hill were taken also. The Lydick family lived in the old Lower Trace school house for a while afterward that sat where the present home of Sonny Stalnaker's daughter is.
"The Upper Trace Fork school wasn't taken, but the two toilets were," Auntie recalled. "They both were left on the bank where the road now turns up the holler toward Bub and Sue Ferguson's present home."
So my grandmother's 58th birthday closed with the beginning of the rain that brought the much remembered and recorded flood of 43'. If she were living today she would be 122 years old.