THE FIFTH ANNIVERSARY: March 18, 2008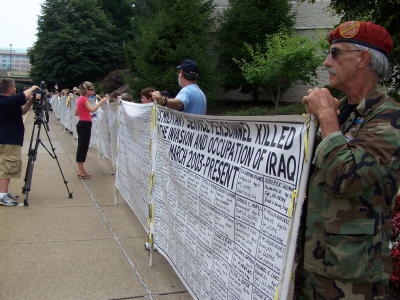 Patriots for Peace have opposed what
they say is an ill-conceived war ...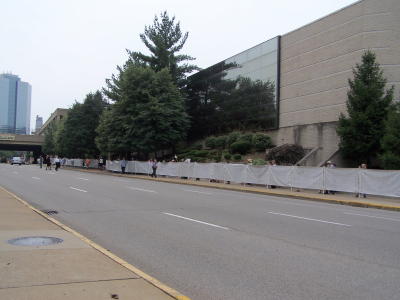 ... by again unfurling a football field long
wall of American soldiers names killed in Iraq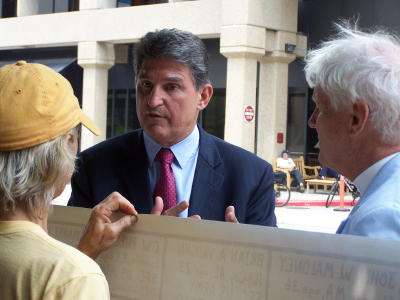 Gov. Joe Manchin and Rev. Jim Lewis speak with Patriot volunteer
(Photos by Hur Herald July, 2007)
"This is neither a protest against nor rally for Sen. Clinton, but a vigil for the soldiers and a reminder of the ultimate cost of this war," said Patriots for Peace organizer Rev. Jim Lewis.
The wall, listing the names of US soldiers killed in Iraq, is a football field long. Yesterday, it was unfurled on a busy Charleston street across from the Marriott hotel, where Democratic presidential contender Hillary Clinton attended a fundraiser.
The wall contains the names of 19 West Virginians.
Lewis said the Wall has been used to impress President Bush and all major candidates who come to West Virginia of the necessity to bring the troops home now.
Reverend Lewis said he's disappointed that Clinton didn't join the group in a moment of silence.
Clinton participated in a town hall forum at West Virginia State University, touching on a number of issues, including the economy, health care, and education. She pushed for universal health care and affordable college tuition bills.
But priority one was Iraq.
Clinton said, "We have a lot of work to do around the world, and we've got to start by bringing our troops out of Iraq. We've got to bring our young men and women home now!" Clinton says that must happen through an orderly withdrawal.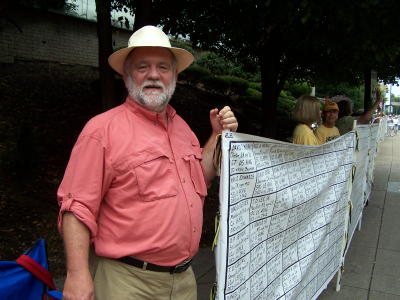 Tom Rodd of Preston County stands with Patriots for Peace
Lewis said Patriots for Peace includes Democrats, Republicans and Independents, members of all aspects of the faith community, political activists, people of conscience, pacifists, veterans, housewives, students, union members, the unemployed and the retired.
"We are your neighbors and your fellow Americans," he said.
The war has cost America near 500 billion dollars.
STANDING IN SILENCE FOR PEACE