LIVING ON THE BOTTOM

By Bob Weaver
Published August 2007

If the multi-billion dollar extraction of West Virginia's most valuable natural resources has improved the quality of life for state residents, there is little evidence.

The state generally ranks next to last in all poverty and income scales, including how children are affected.

With the globalization of tens of thousands of medium to low wage jobs to foreign countries, the state is like a parched desert, overly dependent on coal and natural resource extractors to keep the economy going.

In poverty-stricken West Virginia, the ill-afforded gambling industry is a major revenue producer for the state, now being touted as a job producer from table game operations.

Dozens of companies that afforded jobs in the region are now gone to the globalized economy, touted by the federal government as good for America.

While huge sums of government money has been spent in West Virginia, there has been little movement toward creating work opportunity.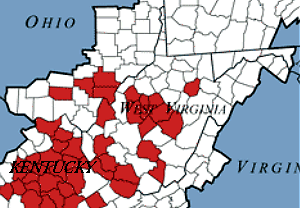 Sixteen WV counties are listed among Appalachia's most distressed
Studies have shown that the Appalachian Regional Commission, a poverty relief agency created in the 1960s, has spent most of their infrastructure money in area's that were already developed, not in the most rural, poverty stricken counties of Appalachia.
The ARC admitted they put their money where "It would do more good."
THE RATINGS
West Virginia has just dropped from 38th to 44th in the nation in the study about the well-being of children, according to Kids Count.
West Virginia ranks 47th in the USA for the percentage of children who live in poverty.
A national study released last week by the Annie E. Casey Foundation noted that in 2005, 39 percent of West Virginia's children live in homes where no parent has full-time, year-round employment.
Critics say the problem is that WV's people have a government-induced welfare mentality and the state's workforce is under-educated.
Others say it has been a massive social undertaking by government to keep the masses under control, including their voting.
Researchers have labeled poverty as earning an income below $19,806 for a family of two adults and two children in 2005.
CALHOUN IS SAFE AND BEAUTIFUL, BUT...
Calhoun people have often been angered when outsiders report on poverty, and it's less painful to ignore the truth that could be a starting point for improvement.
During the past 20 years, the county's weekly newspaper has rarely if ever written about such problems.
It is a wonderful place to live, provided you have sufficient income, a great place for retired folks.
Neighbors help one another at the drop of a hat.
The county school system has lost 500 students since 1990, people leaving to make a living, a trend since the early 1950s.
The county population continues to decrease, now estimated at 7,300.
Calhoun is 77th of the 100 poorest counties in America with per capita income at $11,491. McDowell is the other, ranked at 28th.
Calhoun is among six West Virginia counties on the 100 poorest counties in America under median income.
(8) McDowell -$16,931
(53) Summers - $21,147
(57) Mingo - $21,347
(62) Calhoun - $21,578
(81) Clay - $22,120
Many other WV counties, while not on the 100 list, almost made it.
Kids Count acknowledges improvements in the Mountain State since a time of gross poverty studied in the 1960s.
Calhoun's children living in poverty was at 37% in 1990. It is 32% in 2005.
Statistics that have improved over the years in Calhoun are related to improved health care, now delivered by Minnie Hamilton Health Systems.
While the county rests on one of the country's greatest natural gas deposits, possibly the best news in Calhoun is lower taxes.
THE CHILDREN
The number of high school dropouts and the percentage of low birth-weight babies in West Virginia have both increased in recent years, according to the Kids Count study.
Margie Hale, executive director of the West Virginia Kids Count Fund, said the numbers indicates progress in West Virginia stalled between 2000 and 2004-05.
The state improved slightly in three of 10 indicators, as defined by researchers: the child death rate, the teen birth rate and the percentage of children living in families where no parent has full-time, year-round employment.
Hale said "The teen birth rate keeps getting better, which is great news."
While huge sums of subsistence money has been thrown at poor WV counties, there is a consistent failure to develop roads and infrastructure that would result in job opportunities.
Millions of dollars are spent on re-training for jobs that do not exist.
Many rural counties in Appalachia remain in a black hole, stuck in poverty and in many cases, still declining. There is little political clout to call attention to the region, which has fewer voters.
Some economists say the region should have the same attention as the US government gives third world countries or countries torn by war like Iraq.