We are encouraging our readers to express their thoughts, feelings and opinions about our national tragedy. If you have not done so, please e-mail us at bob@hurherald.com or FAX at 304-354-6183 or snail mail at HC65-Box 120, Mt. Zion WV 26151.

Please remember that the opinions expressed are strictly of those who wrote them.

Dave Humphrey of New Jersey sent these photos to the Herald.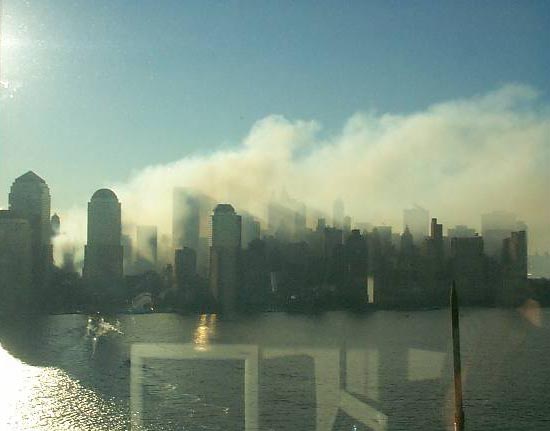 My new view of Manhattan from my office building, very very sad.
Dave said of the second photo, "But this next one made us smile. It's a picture my girlfriend and I sneaked of a couple young girls on Staten Island Saturday, when we were walking the dogs to the park. Believe me, everybody was honking for them."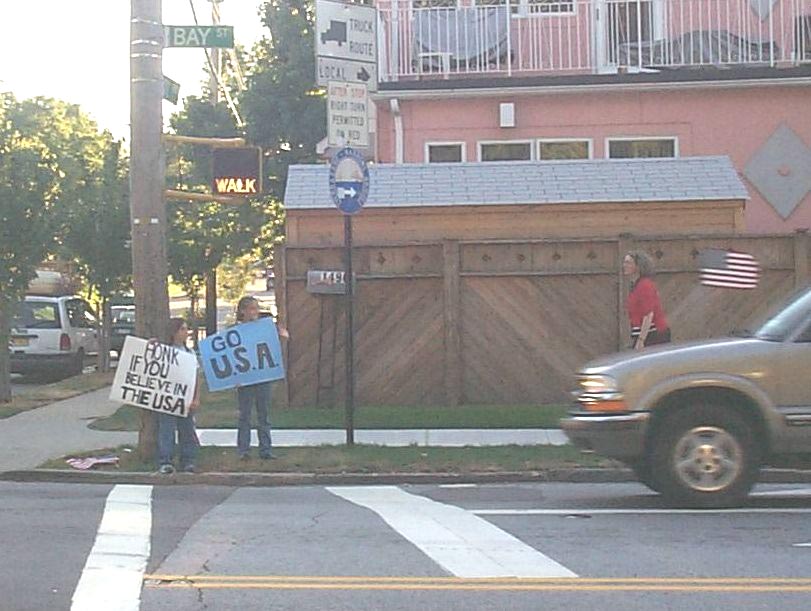 American Girls
Take care there in West Virginia, and know we're getting back to business up here...Dave Humphrey

Over the past few days horrific things have happened to the United States and it is scary to think it is actually happening. Some say it is like a scene from a movie. It is not and what to do frightens me.
I have mixed feelings about retaliation, as well as many other Americans. In anger I think we should attack them and seek revenge for the innocent that have died in their attack on us.
Then in fear of a war I think we should not. It is a constant battle inside myself deciding how I feel. We never imagined a terrorist attack happening on American soil and now we face decisions that will change our lives forever.
What will be done is in the hands of our president and I pray that God will be with him in the decision he makes for our nation and our people. I pray for all Americans that we stand together in this troubled time... Amanda Richards

I would like to take a minute to say how much the Hur Herald is appreciated to those who are away from Calhoun and would like to keep in touch.
Currently my husband and I are at Fort Campbell, Kentucky. This is a stressful time on us and everyone in the military who are waiting go to go war. I hope everyone at home knows how much we love West Virginia and are proud to fight for our freedom...SSGT. Randall Parsons and Family 101st Airborne Division

First, I would like to say that I enjoy reading the Hur Herald and enjoy all the interesting topics that appear in it. I don't know what I can say about the attack without sounding completely naive and somewhat stupid. But, I will have a go at it anyway.
I will never be free of the images I saw on TV Tuesday the 11th. I cannot get over the fact that someone can live with themselves after committing such a horrific thing.
I am a Mother and I cannot imagine of all the children, small or big, that have learned that their Mommy or Daddy will never get home. Never be able to read that bedtime story, never be able to watch a ball game or play in the park again. It is obvious to me, that this Bin Laden has no clue about the love of family, of God, friends, co-workers etc. No clue about the love of life and all the things in it. Evidently, his own life must be in body and a thread of brains only.
I don't know exactly how I would take over this situation. I have a lot of things I would want to say and do. But, do to the fact that I do not have "President" in front of my name, it is pretty much out of my control.
I do know that our great nation needs to come together and stand up for each other. Not only now, but from now on. The only way to stay together is to see beyond the things we don't always agree with, perhaps someone's political views, or their religion or whatever it may be, and look inside and realize that we are all equal and we all deserve the right to be free and safe in this country. We can win this "war", if we can be brave enough to stand together. GOD BLESS EVERYONE...Kathy Robinson