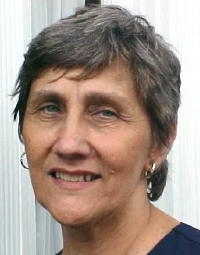 By Ann Richards

There is no way to recall all that has happened this summer. Truth is, it happens too fast to get it all written down.

We are having a garden supper (dinner, for you city folks) from the garden here. Tonight is half runner green beans, cooked with bacon pieces and some onion. Along with that are new potatoes. We used Ruth Stout's method of mulching the gardens and have found it to be productive. The mulch keeps moisture in the ground and draws the earthworms which "plow" the ground. They are nature's little farmers.

Talking about gardens around here is something we all like to do, if we are gardeners. It is an on-going process from early spring until late autumn. There are new orange pumpkins starting on the vines that will be ready for the kiddies who like to carve them and for making pies for winter.

I have been trying to give away my dog, a Golden Retriever. He is a good dog and needs a good home. Not to say that this is not a good home for him. I have too many other things to take care of. My neighbor gave him to me. (She mentioned something about staying out of divorce court). Now, Alice reminded me that if I had a husband, I probably wouldn't have a dog right now, either. Anyway, his name is Jake and he is playful, friendly and strong. I have to keep him tied and only allow him to run for a few minutes a day. He needs a lot of attention and when anyone gets near him on his chain, he barks and jumps about three feet straight in the air. When I let him go for a run, my garden shudders as he runs through it. When he does that, I think about the "bull in a china cabinet".

I could go on about Jake, but that's enough. Send me an email if you want him. But, I will only allow him to go to someone who really wants him and will be good to him.

Yesterday, I was speaking by telephone to my cousin's husband, Dave Simmons, who is in Roane General Hospital recovering from pneumonia. Mentioning that the green beans were ready to pick, got him started talking about how he used to cook beans in a Dutch oven. That is an iron pot hanging over a wood fire. Yum! The thought of that good food cooked over fire made him happy and ready to get out of the hospital. He didn't say so, but I think he is going to find that Dutch oven.

Thank God for the plentiful rain lately. Without help from heaven, we would not have our gardens to brag about.

The Walkers and the Swishers and other neighbors have been getting together to play Hill Billy Golf. For anyone who wants to know more about Hill Billy Golf, send us an email and ask for details.

Alice and I have finally had the revelation that our wardrobe is grossly out of date. So, the thrift stores are getting most of our good used clothes and some of the rest of it is going to be made into rag rugs. What's left is going out with the trash. Now, to shop by Internet, drive to town and fight with the traffic and the crowds or to order from catalogs is the next decision. Considering the price of gasoline now, it might be more economical to order.

Courtney and Darren were bored one day lately and asked if they could make the old green trailer out back into a clubhouse. That seemed like a possible solution to their boredom, so it was okay by me. They worked for two days and when they invited us to come and see the clubhouse, they had done wonders. The old floor tile was gone. The old stacks of books, newspapers and other paper were gone. All of that was stored neatly in the garage. They had swept out the clubhouse and had painted the walls and old refrigerator with bright pink paint which Jason donated to them. The kids can find something creative to do, if allowed to do so. They did well and deserve to be commended for doing this instead of complaining about having nothing to do.

Tomorrow is the Trace Fork and Nobe reunion at Chapel Baptist Church. It is for all the former students of Trace Fork School and Nobe School, both of which no longer exist. I think I can stand no more reunions this year, but this one will hopefully be the last until next summer.

It probably shouldn't even be addressed, but word came to me that my column in February offended someone. I want to set the record straight that it was not meant to offend anyone, but instead was meant to be funny. I do apologize. Our intent with this column is to be positive and as we said in the beginning…We hope to never offend anyone, but as an old saying goes, "He who cares not about the praisers or about the fault finders has peace of mind". It isn't that we don't care about people. We do, or we would not bother to write here. We realize that we can't please everyone all the time. But, we will attempt to stay away from offending anyone as much as possible. Again, my apologies.

This computer is getting ready to go to page three and my brain is starting to cramp, so that's it for now. See you next time on Where the Heart Is.