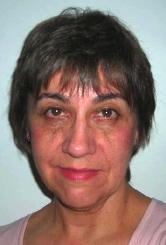 By Alice Hickman

Everything is growing quite nicely in my garden. Leaf lettuce has been abundant for a couple weeks. I should have staggered the planting. Live and learn and take notes for next year.

The summer squash vines look like small trees and they are producing abundantly. Lisa took some for her give-a-way basket at the library. She reported this evening that several people would be having fried squash for supper. One lady said to thank me for the twins (two squash joined at the side). Would these be called a steak when sliced?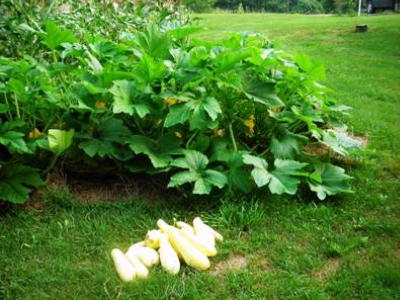 Squash from the background vines
In addition, my seven tomatoes plants are full, with ripening started. The first ripe tomato is in my kitchen window ready for slicing in a couple days. Just waiting for perfection!
Cabbage is large and a couple heads are ready, I think. Husband and I are not big on sour kraut, so Mother is looking for recipes for putting up cabbage. She said that she had made relish using cabbage on occasions.
Then there are the green beans setting on. Home canning will begin within the week. The bush beans, that is. The half-runners (my favorite) will be coming on later (I hope).
Of course, a couple or three cucumber vines are blooming.
Last but not least is corn. I have waited patiently! The stalks are not very tall, but I think it is an early corn, so that's OK. I did stagger plant it, so a few ears are almost ready for the cooker.
My garden is small this year. Even with my errors everything grew, except for the peppers. That is a mystery. Maybe I mulched them too soon.
I consider my experimenting with mulching a huge success. The soil has stayed moist even when my lawn had turned brown and crunchy last month. It is a little work in the beginning, but less work later in weed control. Some spots are thin and a few weeds are popping, so I will throw on a little more hay until I use it all up.
The fresh veggies that are growing, almost free of fertilizer are a wonderful reward for the effort. I partly give credit to night crawlers (earth worms) for soil aeration.
Husband started them in our yard many years ago and it has paid off in soft, loose soil and for fishing bait many times.
It has been much more satisfying this year in comparison to last year with bottles hanging upside down on my porch. That type of growing did not work well for us. Several people have sworn to their success with hanging tomato plants, so it must have been something improper that we done.
My garden is a blessing. I will plan for more variety next year and ask the Lord to give increase.
And that is where the heart is.